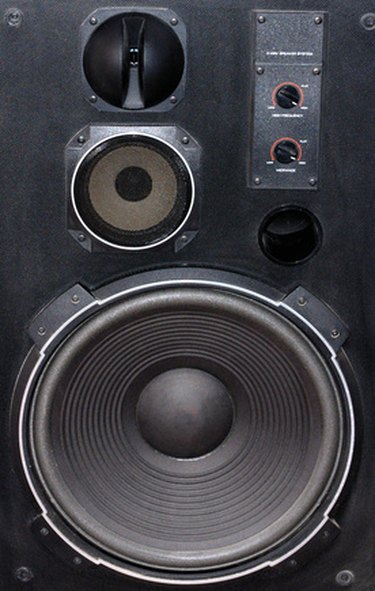 JBL speakers are among the best that have ever been made, especially those of 35 years vintage. Speakers such as the 4412 were expensive compared to many speakers today, but were used in recording studios to mix master recordings. Repairing a JBL speaker is not only fairly easy, but recommended, as most repairs can cost less than $20, and keep a very fine speaker working like new. The most common repairs to an existing speaker are to the woofer.
Step 1
Remove the speaker grill. The grill is held by plastic pins attached to the grill itself. Ease the grill off gradually from both sides and top to prevent breakage of the plastic pins.
Step 2
Examine the loudspeakers in the cabinet. Woofer problems are audible as a distinct lack of bass, and visible as dried out foam or rears in the cone. Tweeter problems make the overall sound very muffled.
Step 3
Remove the damaged speaker element from the cabinet. Use a Phillips screwdriver to remove any screws. If possible, replace any non-working element with a working version, to make sure that wiring is not the problem.
Step 4
Clean the old foam surround from the woofer cone and the speaker basket. The basket can be cleaned with the tip of a flat screwdriver, but the cone has to be dealt with delicately to prevent tearing or puncturing it.
Step 5
Glue new surrounds to first the cone and then the basket. Adhesive is usually a part of foam replacement kits, as our instructions. Foam replacement kits can be bought for 20 to 25 dollars
Step 6
Replace dead or blown mid-range or tweeters by removing them from the cabinet, and checking the part number on the back of the magnet. Replacement parts of very expensive components can often be found on eBay.