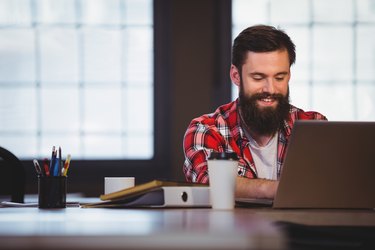 The Sysfader.exe application runs in the background on some computers with Windows operating systems installed. The program is responsible for graphical enhancements in displaying animation on the computer screen. On occasion, a "SysFader: IEXPLORER.EXE Application Error" or similar type of error message may appear. The mix of Internet Explorer 7 or 8, Windows XP and enabled page transitions and menu fade effect settings causes Sysfader problems. Some glitches in the system may cause this incompatibility. By looking closely at these areas first, you might condense the time you spend in troubleshooting and permanently repairing all Sysfader errors.
Step 1
Start Internet Explorer and then click "Tools."
Step 2
Click the "Advanced" tab, remove the check beside "Enable Page Transitions" under "Browsing" and then click "OK." If you still see Sysfader.exe error messages, continue.
Step 3
Click "Control Panel" and then click "Appearance and Themes."
Step 4
Click "Display" and then click the "Appearance" tab.
Step 5
Click "Effects" and then remove the check box beside "Fade Effect."
Step 6
Click "OK" to close the Effects dialog box and then click "OK" to close the Display Properties dialog box. If you still see Sysfader.exe error messages, upgrade to the latest Internet Explorer browser. The Microsoft Internet Explorer Support website link is provided in the Resources.