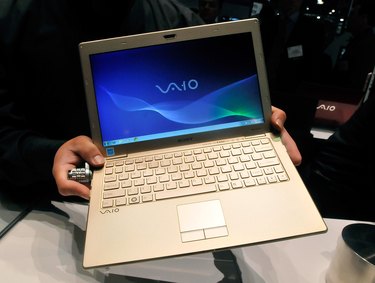 As you install new programs, rip music files from CDs or download data from the Internet, the hard drive on your Sony Vaio PCG laptop will eventually fill up and run out of room. You can replace the hard drive with a new one that has a larger capacity.
Step 1
Power off the Sony Vaio PCG laptop, disconnect the power cord and then close the lid. Flip the computer over so that the bottom is facing up toward you. Press down on the raised latch that holds the battery into place and then pull the battery out of the laptop.
Step 2
Locate the five screws arranged in a square pattern on the right side of the laptop case. Take a screwdriver and remove all of the screws. Slide your fingernail or the tip of the screwdriver underneath the seam of the square plastic cover and lift it up. Grab the cover and remove it.
Step 3
Pull out the two screws that hold the hard drive onto the motherboard. Grab both ends of the hard drive and carefully pull it directly upward for about an inch so that you can see the cable connected to the motherboard. Disconnect the cable and then pull the hard drive the rest of the way out.
Step 4
Take out the four mounting screws that are located on both side edges of the hard drive. Take the replacement hard drive and install the mounting screws into its left and right sides. Plug the cable that runs from the motherboard into the corresponding port on the replacement hard drive.
Step 5
Check the direction of the new hard drive and lay it into the open slot in the same direction as the old hard drive. Use the two screws you pulled out earlier to hold it in place. Slide the cover piece back on and replace the five screws. Push the battery back into the laptop until the latch snaps into place.