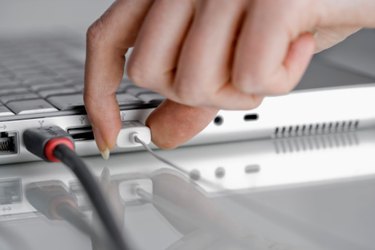 You can connect a traditional keyboard, mouse and monitor to an HP docking station. One advantage of a laptop, though, is that you can connect a second monitor to the VGA port to have multiple screens. On the docking station, there is only one VGA port, so you can only connect one monitor at a time. To remedy this, use a USB to VGA adapter.
Step 1
Insert the driver CD for the USB to VGA adapter into disc drive of your laptop. An installation wizard starts.
Step 2
Press "Next." The driver will copy from the disc to your computer. Click the option for "No, I will restart my computer later," then click "Finish."
Step 3
Turn off the computer and plug in the USB to VGA adapter into an available USB slot on the HP docking station.
Step 4
Connect a VGA cable between the VGA port on the docking station to one of the two monitors.
Step 5
Connect a VGA cable between the USB to VGA adapter and the second monitor.
Step 6
Turn on the laptop and docking station by pressing the power button on the docking station. When the computer starts up, you will be able to use both monitors.