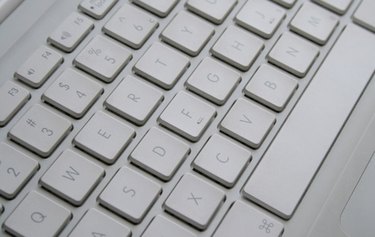 Many Dell laptop computers, including the X300 model, come with a built-in VGA port. This port allows you to connect your computer to a projector. Connecting your Dell laptop to a projector is simple and will allow you to share the contents of your computer with others on a much larger screen.
Step 1
Locate the VGA output port on your Dell laptop. Generally, this port is blue and is located on either the right or left side of the computer, depending on the exact model. Insert one end of the VGA cable into the output port on your computer. Plug the other end of the cable into the VGA input port, which is located on the side of your projector.
Step 2
Plug your projector's power cord into a wall outlet and power on the machine. Wait as the light bulb warms up.
Step 3
Hold down on the "Fn" key on the left-side of the keyboard and press the "F8" key to cycle through your Dell computer's various display settings.
Step 4
Tap the "F8" key once to output video to your Dell laptop's screen only. Hit the "F8" key a second time to output video to your projector. Press the "F8" key a third time if you would like to output video to both your projector and laptop's screen.
Step 5
Power off the Dell laptop and projector and disconnect all the wires after you are finished with your presentation.