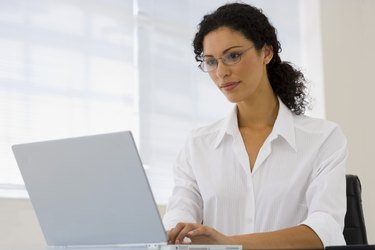 System Restore is a Windows utility that allows you to restore your computer to a previous state. It is an important troubleshooting tool that enables you to reverse negative changes without deleting files and folders saved to your computer. You can access the System Restore utility from System Tools on the Start menu, however; you can also launch it more quickly from the Task Manager using a shortcut command.
Step 1
Launch the Task Manager by pressing "Ctrl," "Alt" and "Delete" together.
Step 2
Click the "File" menu and click "New Task (Run)" to launch the "Run Command" window. Type "C:\windows\system32\restore\rstrui.exe" (without quotes) and press "Enter" to launch the System Restore utility.
Step 3
Click the "Create a new restore point" radio button on the welcome screen if you want to create a new backup. Type the name of the backup and click "Create." By default, Windows creates restore points automatically, but you can create a backup.
Step 4
Click the "Restore my computer to an earlier time" radio button if you want to perform a System Restoration process. Select the day to restore your computer to and run the System Restoration wizard.
Step 5
Click the "Undo my last restoration" radio button on the welcome screen if you want to undo a previous restoration process.