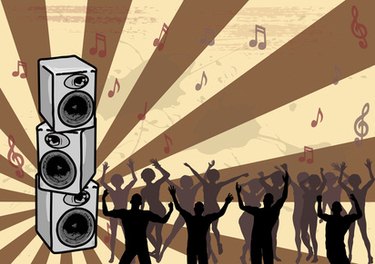 Adobe Photoshop has some limited vector drawing capabilities with its rectangle tool (which pops out to a vector-based line tool, a polygon tool and more shapes that can be combined). A vector based image is defined by lines with color information (for the line or for the shape defined by the line). Photoshop's native format is a raster-based one—where a picture is made up of pixels, each with a specific color given. If you want to preserve the ability to manipulate a vector drawing made from within Photoshop in another vector drawing program, the file needs to be saved in a special way. This process works with Photoshop CS3 and later.
Step 1
Create your vector artwork in Photoshop; the vector tools in Photoshop are the rectangle tool and its submenu items, such as the line and polygon tools. Photoshop lacks the ability to import vector files without rasterizing them, so creating the vector artwork from scratch is the only way to get a vector drawing into Photoshop. For more information on using Adobe's vector drawing tools, see the Resources section.
Step 2
Click on the "File" menu item.
Step 3
Select "Export." From the submenu, choose "Paths to Illustrator."
Step 4
Enter the name of the file you want to save in the dialog box that opens; the extension will be *.ai for Adobe Illustrator. This will export the Photoshop file to Adobe's standard vector file format. Within Illustrator, the raster information will be on a separate layer from the vector information, and the vector layer will be editable with all of Illustrator's tools, while the raster information will be treated as a single element.
Step 5
Save the original file in Photoshop by clicking the "File" menu, and selecting "Save." If you save as a Photoshop file (*.psd), the vector information will remain intact for editing within Photoshop, but the file will not open in a way that Adobe Illustrator can manipulate.