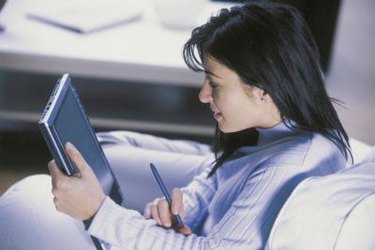 Apple introduced a file sharing system to its iTunes multimedia management software in version 9.1; it allows you to copy files to and from specific applications installed on your iPad. This is useful for image manipulation apps, word processing, e-book readers, media players and any other iPad applications that can use, create and edit computer files. A compatible application for the files you're saving to the iPad must already be installed before iTunes allows you to send them to the device.
Step 1
Download and install the latest version of iTunes on your computer, following the installation instructions detailed on the Apple website. Once installation is complete, launch iTunes on your computer.
Step 2
Connect the iPad to the computer using its USB cable. The iPad is detected by iTunes and added to the "Devices" list in its left-hand column.
Step 3
Select the iPad from the "Devices" list in iTunes, and open the "Apps" tab in the main window.
Step 4
Select the application that's compatible with your files from the "Apps" list in the "File Sharing" section. A list of the application's files currently saved on the iPad is displayed in the "Documents" box to the right.
Step 5
Drag and drop the files from your computer into the "Documents" box in iTunes. The files automatically sync to the iPad, where they'll be available through the associated application.
Tips & Warnings
The iTunes file sharing system operates in both directions, allowing you to drag and drop new or edited files out of the "Documents" box and into a folder on your computer.