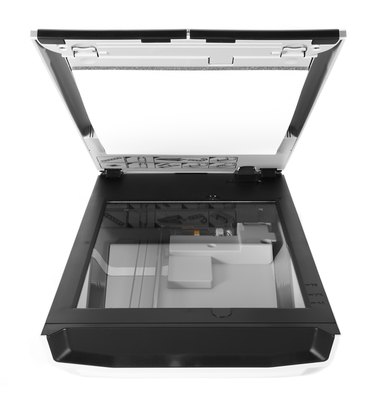 Add all sorts of items to your computer system by scanning them. With an all-in-one printer or simply a scanner connected to your computer, capture documents and images and then store them digitally. This helps you keep track of purchase receipts, copy a product to store its image or back up important papers such as contracts. Scanning also allows you to create copies of photographs to post onto social networking sites and share with family and friends.
Step 1
Prepare your computer by installing the drivers and software needed to connect your computer to your scanner and enable scanning. Your manufacturer's website contains the latest drivers. Connect your scanner or all-in-one printer to your computer via the appropriate port, typically USB or FireWire. Restart your computer when the installation process is complete, and plug and power on your scanner or all-in-one printer.
Step 2
Configure your scanner by reviewing the scanner software. Set the quality levels, 72 dots per inch, or dpi, is typical, though some scanners can scan at 200 dpi or higher. Define the type of scan you're conducting from the choices. Typical choices include; color photo, document, black and white photo, color document and text/line art. Define the type of viewing you'll conduct for the item to help set the quality level -- typical choices include Web or document.
Step 3
Raise the cover of your all-in-one printer to place a document on the scanning area. Use the guide marks located near the scanning glass to position your document or item. If you don't, you risk part of the document or photo being cut off as it is out of view for scanning purposes.
Step 4
Insert your documents into the feeder if you have an all-in-one printer that contains the automatic paper feeder. Typically, scanners and all-in-one printers load no more than 10 sheets at one time.
Step 5
Preview the scan by select "Prescan" or "Preview," if you want to view the scan results before accepting them.
Step 6
Press the button labeled "Scan" on your all-in-one printer or scanner if the initial scan is acceptable. Scanning often takes a few minutes to complete, especially at higher levels of quality.
Step 7
Save the scanned item in the file type you need, such as files using the extension JPG, BMP or PDF. The scanning software prompts you to pick the file format when you save the scanned image.
Tip
If you have a Mac, use the "Image Capture" utility in the Applications folder to scan images and set the options beyond what your scanner software might allow.