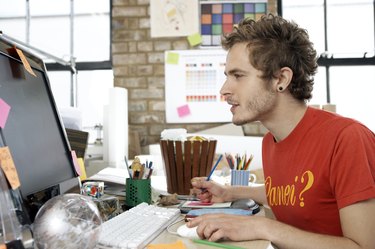 If you have just discovered some fantastic old photographs in your attic or closet, you'll probably want to make copies for relatives, or enlargements to hang in your own home. Without a photo's original negative, you can't simply reprint the image at a larger size. You can, however, create high-resolution enlargements from a hard copy photograph by scanning the image and printing an enlargement from the computer. If you don't own your own scanner, don't worry; many copy centers have scanners and computers that you can use for a small fee.
Step 1
Turn on the computer and the scanner, and open the computer's scanning or image-editing software.
Step 2
Open the scanner and place your old photograph face down on the scanner glass.
Step 3
Go to the "File" menu in the scanner or photo-editing software and select "Import" and "From Scanner." You might be able to select the exact name of the scanner already connected to the computer, such as "Epson V500" or "HP Scanjet G4050."
Step 4
Select the type of document you are scanning from the new scanning options window. You will be able to choose between "Color Picture," "Black and White Picture" or "Text Document."
Step 5
Select a desired file format for the scanned image. You will probably be able to choose between JPEG (Joint Photographic Experts Group) format and TIF or TIFF (Tagged Image File) format. The TIF format works best for enlarging images; these files are larger and can support greater detail and resolution than JPEG files.
Step 6
Select a desired image resolution for the scanned image. You will have to specify this resolution with a "dpi" number. "Dpi" stands for "dots per inch," meaning the number of pixels per inch in the image. Select a dpi of at least 600. An image resolution of 600 dpi should produce high-quality enlargements from small original photographs.
Step 7
Click "Preview" to view a preview scan of the image at your chosen resolution. Adjust the photograph's placement on the scanning glass if the image appears crooked. You can also select a more specific area of the picture to scan by creating a box over the preview scan using your mouse.
Step 8
Click "Scan" to scan the image, and save the file.
Step 9
Print the image at home if you have a high-quality printer, or save the image file to a CD or flash drive and take it to a copy center for printing.