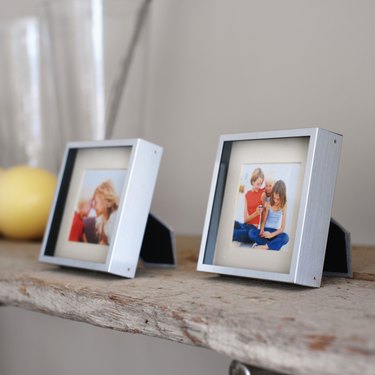 Whether reproduced from film negatives or printed from a digital file, the finish of your printed photos can make a big difference in color saturation, detail, and glossiness. The most common photo finishes available to consumers are glossy, matte, and luster, each with their own advantages. You can request a certain finish from the store processing your film or files, or buy special luster photo paper for your printer at home.
Glossy Finish
Glossy finish, as the name suggests, is shiny and reflects light well. With high color saturation and tending to show fine detail crisply and sharply, glossy is the type of photo finish most people are used to. Due to the smooth surface, glossy photos are well suited to being scanned into a computer. However, glossy paper's tendency to pick up oily fingerprints on the surface can be problematic if you plan to pass photos around.
Matte Finish
Matte or matt finish is highly textured, so it resists fingerprints and scratches. Much more dull than glossy photo paper, it does not reflect as much light, reducing glare but also impacting the vibrancy and color saturation of your photos. The texture of matte finish also tends to make a print look grainy and blur detail. Professional photograpers prefer matte finish for wallet-size prints, as they tend to be handled more, and perhaps due to this association matte is seen as more "professional," particularly in black and white.
Luster Finish
With a modestly textured, pebble-like surface, lustre finish sits in the middle between the shininess of glossy paper and the dullness of matte paper. Though luster paper still suffers somewhat from glare, it is much less noticeable than with glossy paper. When compared to matte finish, photos on luster paper have better color saturation and detail. Luster paper is commonly used by professional photographers for wedding, portrait and school photos.
Comparison
For everyday color snapshots, which might be placed in a photo album, glossy finish is a good choice for its vibrant color and vivid detail, while matte is well suited to black and white prints or prints that get handled often. However, when you want the color saturation and detail of glossy but without the glare or tendency to show fingerprints, luster finish is a good solid choice.