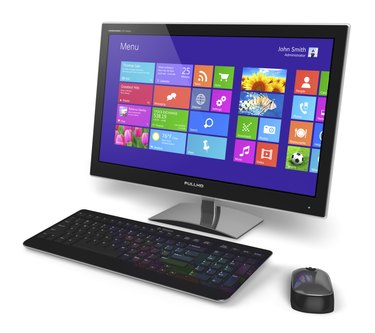 While you can set an animated GIF as your desktop and Start Screen background image under the "Personalization" menu, Windows 8.1 will not animate the file without help from a third-party program. The free program Windows 8 Start Screen Customizer can apply an animated GIF to the Windows 8 Start Screen wallpaper; however, it will not animate GIFs on the traditional desktop. Without another program, setting an animated GIF as wallpaper is only as good as using a static image file; Windows 8.1 will only display the first frame of an animated GIF that's configured as wallpaper.
Step 1
Download, install and run the Start Screen Customizer program.
Step 2
Save the animated GIF you want to place as the background image to the hard drive.
Step 3
Tap or click the "Load Picture" button to launch the file navigator, locate the animated GIF in the "Open" window, click or tap the GIF and select "Open."
Step 4
Drag the corners of the blue rectangle animated GIF overlay to capture the desired background dimensions. The program animates the GIF to aid in the configuration process. Windows 8 Start Screen Customizer does not support layering multiple images or adding graphical effects.
Step 5
Check the box next to "Run at Startup" under the "Extra" subheading to enable the animated GIF background on boot.
Step 6
Tap or Click the "Apply & Save" option and select "Exit" to complete the process. Windows 8 Start Screen Customizer can only adjust the Start Screen wallpaper; the program's changes will not alter the desktop wallpaper.
Tip
While the desktop personalization menu lets you import any image file you desire for the desktop wallpaper, Windows 8.1 only lets you choose from a preset image pool for the Start Screen wallpaper. Prior Windows versions allowed animated GIFs to be set as wallpaper; however, animated GIFs were not widely used at the time. According to Mashable, it wasn't until 2012 that the Internet community embraced and brought the 1987 image format back from irrelevance. Animated GIFs were not popular through most of the Windows 8 development period.
Windows 8 Start Screen Customizer is not the only available tool to change the Windows 8 wallpaper. Stardock's DeskScapes and Desktop Paints' Animated Wallpaper Maker are paid alternatives that can place and animate GIFs as the desktop wallpaper. DeskScapes can add visual effects to an animated GIF wallpaper and Animated Wallpaper Maker is built for creating customized, layered background images.
Warning
Animated GIFs tend to use more system resources than static background images. If you are concerned about battery life or are running an under-powered system, configuring an animated GIF as wallpaper could lead to system performance issues. If you use a particularly large, high-definition resolution GIF as wallpaper, the Start Screen Customization tool may use a lot of system RAM and lower-powered integrated graphics cards may have trouble smoothly updating the image.