While you can set an animated GIF as your desktop and Start Screen background image under the "Personalization" menu, Windows 8.1 will not animate the file without help from a third-party program. The free program Windows 8 Start Screen Customizer can apply an animated GIF to the Windows 8 Start Screen wallpaper; however, it will not animate GIFs on the traditional desktop. Without another program, setting an animated GIF as wallpaper is only as good as using a static image file; Windows 8.1 will only display the first frame of an animated GIF that's configured as wallpaper.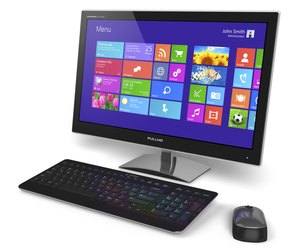 credit: scanrail/iStock/Getty Images
Step
Download, install and run the Start Screen Customizer program.
Step
Save the animated GIF you want to place as the background image to the hard drive.
Step
Tap or click the "Load Picture" button to launch the file navigator, locate the animated GIF in the "Open" window, click or tap the GIF and select "Open."
Step
Drag the corners of the blue rectangle animated GIF overlay to capture the desired background dimensions. The program animates the GIF to aid in the configuration process. Windows 8 Start Screen Customizer does not support layering multiple images or adding graphical effects.
Step
Check the box next to "Run at Startup" under the "Extra" subheading to enable the animated GIF background on boot.
Step
Tap or Click the "Apply & Save" option and select "Exit" to complete the process. Windows 8 Start Screen Customizer can only adjust the Start Screen wallpaper; the program's changes will not alter the desktop wallpaper.