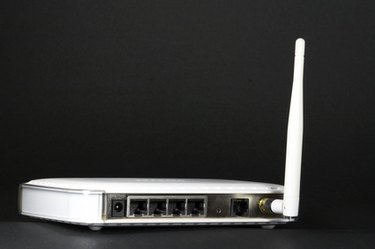 A digital subscriber line--also known as "DSL"--is an always-on Internet connection typically used in a home environment. Since many DSL modems only come with one output port, it is necessary to use a network sharing device such as an Ethernet switch or DSL router to allow multiple computers access to the Internet.
A wireless DSL router allows both wired and wireless devices to share one connection from an Internet service provider (such as Windstream, AT&T or Qwest). However, the router must be configured to work in conjunction with a DSL modem.
Step 1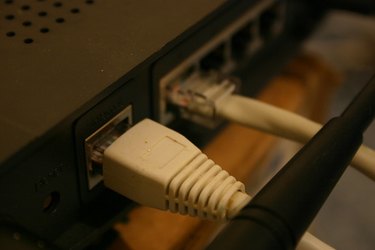 Plug the DSL modem and DSL router each into a power outlet and turn both devices on. Plug one end of the first Ethernet patch cable into the "Computer" port on the DSL modem. Plug the other end of the first Ethernet patch cable into either the "Internet," "WAN" or "Uplink" port on the back of the router.
Step 2
Plug one end of the second Ethernet patch cable into one of the free router ports. Plug the other end of the second Ethernet patch cable into the network adapter on the computer.
Step 3
Turn on the computer and allow it to boot up. Place the router software CD into the CD-ROM drive and open the router software program setup wizard (double-click "Setup.exe" or "Autorun.exe," depending on the manufacturer).
Step 4
Log into the router in the program setup wizard using the login name and password supplied by the manufacturer. Change the SSID (router name) and select a pass phrase for secure wireless networking (either WPA, WPA2 or WEP). Write this pass phrase down and keep it in a secure location. Log out of the router and close the program setup wizard.
Things You'll Need
DSL modem

DSL router

Router software CD-ROM

Computer with wired Ethernet adapter

Two Category-5 (Cat5) Ethernet patch cables