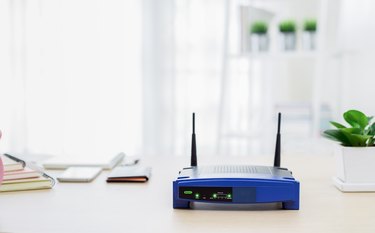 Your home's Wi-Fi depends on a router, which broadcasts a signal to allow you to connect to the internet. Every router has a limited range, which can make things tricky if the distance from one end of your house to another is substantial. A Wi-Fi extender can boost the router's signal to reach those remote areas of your home. Setting one up is surprisingly easy.
General Wi-Fi Extender Setup
Many modern Wi-Fi extenders are built to be easy to set up. The hardest part is choosing where to locate your booster. If you've had Wi-Fi for a while, you probably already know where the dead zones are in your home, but even if you choose the wrong spot, you can always unplug it and move it elsewhere.
The first step to setting up your Wi-Fi extender is to plug it in. After it's plugged in, follow the instructions specific for your router to finalize the installation. Most routers come with an app that you can use to go through the installation process, and the instructions for getting to that app are usually included in the setup instructions that came with the extender.
NETGEAR Wi-Fi Extender Setup
NETGEAR is one of the most popular Wi-Fi extender brands, so it may help to take a look at its setup process specifically. The default IP address for a NETGEAR router is likely to be 192.168.1.1. By typing that IP address into a web browser, you can customize the extender settings through the router admin panel.
When you've plugged in the extender and it's active, navigate to mywifiext.net. Input the requested information and receive a step-by-step installation wizard called NETGEAR Genie Smart Setup. The wizard should get you up and running in a matter of seconds.
Connecting to a Wi-Fi Extender
After the booster is plugged in and working, connect the devices that will use it. The Wi-Fi extender appears in the list of available networks on each device, along with your main household network. Don't forget to connect any printers and mobile devices you regularly use in that area of the house.
This initial connection should be the only time you have to connect your equipment manually. As you move throughout the house, your devices automatically latch on to whichever network is the strongest in that area. If you find your laptop or mobile device is grabbing the wrong network, you can manually change the connection by choosing it in the list of available networks.
Understanding Your Wi-Fi Router
As you go through the Wi-Fi booster setup steps, pay particular attention to the part of the manual that describes how to read your unit. Wi-Fi extenders are simple devices, but they usually have indicator lights to make things easier. The extender will indicate the strength of its connection to your router, alerting you if you need to move it to a better area of your home.
With NETGEAR routers, for example, a solid green light indicates you have the best connection possible, and an amber light indicates a good connection. A solid red light tells you the connection is poor, and no light at all means there is no connection whatsoever. Other brands of extenders also have indicators that help you determine if the unit is off or on and whether the connection to your devices is strong.
Wi-Fi Repeater Versus Extender
When you're looking for a Wi-Fi signal booster, it's important to choose the right device for you. There is a difference between a Wi-Fi extender and a Wi-Fi repeater. Unlike an extender, which is designed to extend your router's coverage, a repeater "repeats" the connection from your existing router by using two routers.
With a Wi-Fi repeater, you set up an additional router in the dead zones within your home. Your existing router transfers the signal to the second router, where it then broadcasts the signal to that area, effectively doubling the coverage area. Wi-Fi repeaters have a setup process similar to a Wi-Fi extender in that you set up the repeater and plug it in, and then connect it to your router by following a setup wizard.
Connecting to a New Router
From time to time, you may need to switch out your router, which means reconnecting the Wi-Fi extender. When that happens, reconfigure your extender to match the equipment you've just added. If your router supports Wi-Fi Protected Setup, push the WPS button on the new router for five seconds or until the light blinks and then wait 60 seconds before pressing and holding the extender's WPS button for five seconds.
If that doesn't work, or your router doesn't support WPS, reboot the extender after you plug in the new router. Open the extender setup page and go through the steps you went through when initially setting it up. It then searches for networks and prompts you to enter your Wi-Fi password to complete the process.
Choosing a Router
Ease of connectivity starts when you shop for a router. Some Wi-Fi extender setup issues stem from choosing the wrong router for your existing network. In some cases, you may find that setup is easy, but your connection is disappointing and have no idea the problem is related to your extender choice.
For best results, note the speed of your existing router and choose an extender that matches that speed. NETGEAR has a Wi-Fi analytics app that looks at your existing network and recommends an extender to match. If you have another brand in mind, check the manufacturer's website to see if it provides a tool that lets you input your router information to receive extender recommendations.
Analyzing the Signal
Before, during and after purchasing and installing a new Wi-Fi extender, you can run an analysis of the connection using an app. This process helps you determine whether you need an extender in the first place and, if so, where it should be placed. After you install the new extender, it helps you confirm whether the change has made a difference in your connection in those dead zones within your home.
One such app is inSSIDer, which you download to your device and then use to analyze nearby networks. It takes a look at all the Wi-Fi networks nearby, gathering information on the signal strength and the channels they use. WiFiBuilder and Wireshark are similar apps, although they are more on the technical side, so they may not be the best choices for the casual Wi-Fi user.
Troubleshooting Setup Issues
Hopefully, everything goes smoothly with your Wi-Fi booster setup, but there are some instances where you may run into issues. Most often, the problem is that there are too many obstacles between the extender and your device. If you're nearby, it could be that something between your device and the extender is causing interference, such as a microwave oven or a wireless baby monitor.
Difficulty connecting your router is usually related to incorrect credentials. Make sure the settings you input for your extender match the settings on your router and double-check that the password you entered for your Wi-Fi network is correct.
Turn a Laptop Into a Repeater
You don't have to buy a new piece of equipment to improve the performance of your router. With the right app, you can turn your laptop into a Wi-Fi signal booster. When the app is installed, your laptop can act as a Wi-Fi repeater, amplifying the router's signal.
After you download the extender app, choose your network and do a quick check of the security options. Then, run the booster and enjoy immediate signal amplification. Some of the apps even include a bridge that lets you connect other devices to your laptop for an improved connection in an area of your home.
Mesh Wi-Fi Routers
In recent years, mesh routers have become a popular alternative to a Wi-Fi signal booster. These specialized routers get around the limitations of traditional routers by changing the way they broadcast. With a mesh router, signals are broadcast to multiple access points rather than sending them out from one location.
One drawback to mesh routers is their higher price point. Not only do you have to purchase the router, but you also need additional satellites to place throughout your home so that the router can do its work. You end up with multiple pieces of equipment spread throughout your home rather than the one router plus one extender you have if you go the traditional route.
Benefits of Dual-Band Routers
Although a Wi-Fi extender expands the Wi-Fi to other areas of your house, the fact that the extender is communicating with your router slows things down for the rest of your home. Your extender is yet another device communicating with the router and then translating that signal to the devices connected to it. The result could be disappointing lags if you're trying to do intensive tasks like gaming or streaming.
One way to prevent this issue is to invest in a dual-band router. The extender likely uses the 2.4 GHz band, while the 5 GHz band handles all the other tasks. You have less competition for the signal and fewer lags and slowdowns as a result.
Wi-Fi Extender Security
When you set up a Wi-Fi router, you typically put extra time and effort into making sure it's locked down so neighbors can't latch on to it. Make sure it has a password and that the security settings are checked. If no password is set up on your extender, not only can neighbors use it, but you'll have an entry point into your home's Wi-Fi.
In addition to your initial setup, you should be aware of vulnerabilities that may affect your extender specifically. This particular vulnerability has to do with the encryption keys used to secure your network. Install any updates on your devices as quickly as possible and update your extender's firmware on a periodic basis to keep your devices safe.
Updating Your Firmware
There are instances in which you need to update the software that powers your extender. This may happen during the Wi-Fi booster setup if you're having difficulty connecting. Even if you have a worry-free setup, you should occasionally go in and update the firmware to keep your home network as secure as possible.
To update the firmware for your extender, go to the admin site you were given during setup. Log in and check the options for language related to a firmware update. On a NETGEAR extender, this information is accessible by going to www.mywifiext.net and choosing Firmware Update from the menu.