Whether you want to send an informal letter to a friend or write a professional correspondence, the computer can help. Typing on the computer, also known as word processing, is easy to set up. It is likely that your computer is already set up with the most basic software you need to type a letter. However, with a little extra effort you can set up your computer to produce a higher quality product.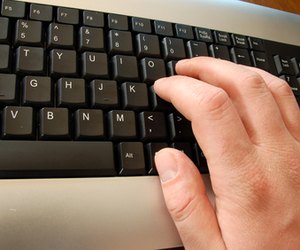 Step
Use WordPad, which comes standard with all Windows computers, to type your letter if only you need the ability to type. WordPad can be found by going to your Start Menu, clicking on "All Programs," then "Accessories" and selecting WordPad.
Step
Check whether your computer has a copy of a word processing program installed. Many computers come with Microsoft Office or WordPerfect installed. They would be found in your Start Menu under "All Programs." If they are not already on your computer you can purchase and install a copy or download and install OpenOffice, a free word processing program.
Step
Open your word processing program. Using a word processor will give you more flexibility in how to format your letter and also comes with spelling and grammar checking capability.
Step
Consider using a template for your letter. Templates automatically format your letter and automate some parts of the process. For example, you can have the word processor remember your address and name and fill that part of the template in the next time you use it. There are different templates available for different styles of letters, such as job inquiry letter, formal business correspondence and personal letters. Some templates also include decorative elements to improve the look of your letter.
Step
Download additional templates, if none of the default templates for your word processor fit your needs. Microsoft Office, WordPerfect and OpenOffice all have free letter templates available online for download.