Microsoft Word 2013 is the ubiquitous word processing application for Windows machines. The pervasive use of the application has forced other applications such as Apple's Pages and Google's Drive to include the ability to read Word documents, as well as to save files in Word format. With all this popularity comes many benefits to users. One such benefit is a large library of templates for many kinds of letters. Word includes free templates for almost any requirement, including business, employment, academic and medical. Getting a professional look and feel to your letter is made easy with the varied choices of templates. Many of the templates included in Word also have example text already provided, which you can keep, modify or delete depending on your specific needs.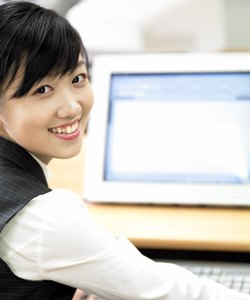 credit: TongRo Images/TongRo Images/Getty Images
Step
Launch Microsoft Word on your computer and click "File" then "New" in the top menu.
Step
Click "Letters" from the left column of choices in the "New Document" window.
Step
Select the topic that is most relevant to your needs, such as "Business letters." In this case there are even more examples provided. In this example, click "Marketing letters" then click "Request for permission to reprint article."
Step
Click "Download" in the bottom right of the window.
Step
Begin adding your information in the prompted spaces such as your name, your address and the recipient's information, and write your letter as normal.
Step
Apply consistent formatting to your document, especially if you are copying text from a Web page or another document. Highlight any text that you use as the source for your desired format and press "Ctrl-Shift-C" -- this copies the formatting but not the text itself. Then highlight any text that you need to reformat to look like the source text. Once it is highlighted, press "Ctrl-Shift-V" to paste the formatting without replacing the text.
Step
Change the font size of your text quickly by highlighting all text you wish to change and enlarge the font by one size for each mouse click by clicking the icon with a capital "A" next to the font size drop-down menu in the "Home" tab. Reduce the font size by one level by clicking the lower case "a" icon.
Step
Adjust line spacing for easy reading by clicking the "Line spacing" icon, which is in the "Paragraph" group of icons in the "Home" tab. Highlight your text and select various line space options to determine the look you require.
Step
Sign your name by typing it in the prompted space at the end of the letter. For a professional touch, you should sign your name with a pen after you print it.
Step
Click the disk icon in the upper menu to save your letter so you can open it and edit it later.