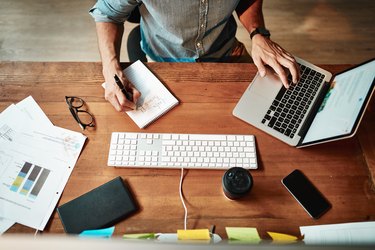 Microsoft Word is one of the most common word processing options available. Documents in the .doc or .docx format are the norm in school and business. That makes Word a preferred method of letter writing because the electronic version of the letter is well received and easily opened using Word. Writing a letter in Word is done either manually or with a template. The choice ultimately depends on the desired design and complexity of the format. You can write a simple letter without any formatting or choose to add company letterhead and contact or professional information.
Planning a Letter
Before you jump into the letter-writing process, consider the goals of your letter. A professional letter should be well-designed with letterhead and your personal contact information. A personal letter requires less attention to design details and focuses on the content instead. A design is optional on a personal letter, but it plays well for letters that act as invitations to a party or other event. After choosing a design, work through the letter's content to ensure your message is clear. Introduce yourself and explain your position, opinion or goals in the letter. Add a short but effective closing argument. Type the letter in Word and revise it at least once to make your point effectively. Letters are usually one or two pages, but they can go longer if there is a purpose behind the long format. Otherwise, a single page letter is the best choice.
Letter Templates in Word
Using an existing template is an excellent option for when writing letters in Microsoft Word. Word provides free letter templates in the program. Cover letters and letterhead templates are widely available online as well. A simple internet search for free templates yields plenty of results. Paid options are available and may come with support from the designer. You save a copy of the template and insert your text, logo and any other relevant information into the existing design. A cover letter may have a logo or small photo of you along with your contact information in the header.
Sharing Your Letter
After you design and write the letter in Word, save the file to your computer's hard drive. One nice thing about Microsoft Word is that you can email the letter as an attachment. Your recipient is likely to have Word on their computer and can open the document with no trouble. Even when using a different word processing program, converting word docs or reading a view-only document is easy. If you want to protect the letter from editing, choose "Save As" and select "PDF" in the format options. A PDF is easy to open and read, and the reader cannot edit the document. You can also print the letter directly from Word to share in a physical format.