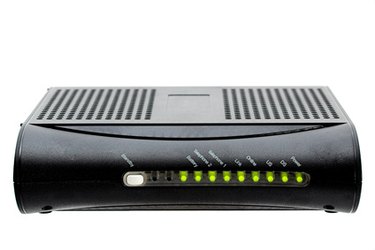 If your Comcast Internet connection is slow, there are steps that you can take to improve the speed of your connection. For most people, the default Comcast Internet settings will get them onto the Internet at the highest-available speeds, but depending on your computer setup, it may be necessary to make some adjustments to increase the speed and latency of your connection. Moreover, if you use a wireless router to connect to your Comcast Internet, then it is necessary to make some setting adjustments on your router to ensure that your connection is as fast as possible.
Adjusting the Router
Step 2
Connect to the router by entering "192.168.1.1" into the address bar without quotations.
Step 3
Enter your router username and password. If you have never accessed your router settings page, then it will be setup with the defaults. Consult your router user manual to find the default username and password.
Step 4
Navigate to the Internet settings section of the router settings page. This is usually called either "Basic Settings" or "Internet Settings."
Step 5
Confirm the router is configured with the ISP-recommended settings. Enter the Internet account username and password (if required), IP and DNS address settings (or select dynamic IP address if your ISP supports this) and set the MAC address as per the ISP-recommended settings.
Step 6
Select "Wireless Settings" if you connect to the Internet using Wi-Fi and confirm that everything is configured correctly.
Step 7
Save any changes make to the router. Your router should reboot at this point.
Step 8
Ensure that the Comcast modem and wireless router are physically as far apart as possible. Line interference is sometimes caused by placing the modem and router too close together; that can have dramatic effects on Internet connection speed. Use a longer CAT5 cable to keep the modem and router as far apart as possible.
Updating Computer Settings
Step 1
Launch the Windows Network and Sharing Center. This can be found in the Control Panel.
Step 2
Select your Internet connection from found under the "Active Networks" section. If you are connected through a LAN it will be identified as a "Wired Internet Connection" and if you are using Wi-Fi it will be identified as a "Wireless Internet Connection."
Step 4
Select "Internet Protocol Version 4" and ensure that the IP and DNS addresses are set up as per ISP specifications.
Step 5
Launch the Windows firewall by selecting "Start," "Control Panel," "System and Security," "Windows Firewall."
Step 6
Click "Advanced Settings."
Step 7
Select "Monitoring," then "Firewall" and ensure that standard outgoing and incoming Internet connections are not blocked or filtered by your firewall. In particular, ensure that all "Core Networking" variables are set to "Allow."