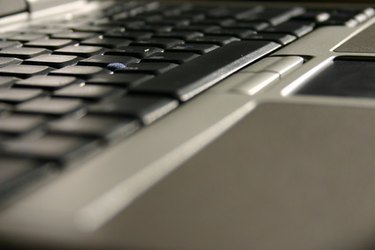 A wandering mouse cursor issue happens when the mouse cursor on the computer screen moves without user interaction. Typically this is a symptom of a faulty touchpad or touchpoint -- a small rubber knob positioned in the middle of the keyboard -- device or driver on a laptop computer, but the problem may occur in desktop computers using PS/2 or USB mice as well. Because of the variety of causes, several methods are available for troubleshooting a wandering mouse problem, including updating drivers and reviewing your settings in the Mouse Properties menu.
Step 1
Open your default Web browser and type in your laptop manufacturer's website address. Click the "Support" or "Drivers" link from the manufacturer's homepage, then type in your laptop model number. Click to download the appropriate drivers or software for the touchpad or touchpoint and your operating system. Install the drivers or software using the on-screen instructions, then restart your computer.
Step 2
Click the "Start" menu and choose "Control Panel." Double-click the "Mouse" icon. Click the "Pointer Options" tab. Click to clear a check from the "Enhance Pointer Precision" check box. Click "Apply," then "OK."
Step 3
Open the "Mouse Properties" window using the method in Step 2. Click the "Pointer Options" tab. Drag the pointer speed slider a few notches to the left to decrease the mouse sensitivity. If a hardware issue is causing the wandering cursor, this method may be an acceptable way to fix or minimize the problem.
Step 4
Click "Start," then click "Control Panel." Double-click the "Mouse" icon. Click the "Device Select" tab. Click to disable the touchpoint device. Leave the touchpad enabled, then click "OK."
Step 5
Trace the PS/2 or USB mouse cable to the port where it plugs into your computer and unplug the device. Multiple pointing devices may interfere with each other, causing a wandering mouse cursor or other mouse issues.
Step 6
Open the battery bay on the device using your fingernail or a small flat-blade or Phillips screwdriver. Replace the batteries with the appropriate voltage and size of battery. Fasten the battery bay cover back onto the device and test the mouse. Low batteries can cause unexpected problems in computer peripherals.