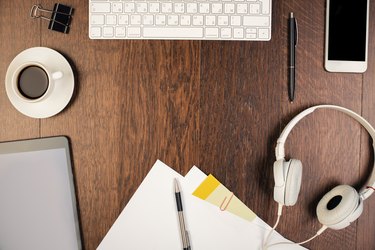 Many iPhone and iPad users desire to have the same apps, pictures and other information on each device. You can synchronize your iPhone and iPad through iTunes, but cannot synchronize your iPhone directly to your iPad. Thankfully, synchronizing the two units is very simple as they share the same iTunes account. In the future, if you decide to have the information vary on each unit, that can be done through iTunes as well.
Step 1
Connect the USB cord to the computer and iPhone. iTunes should start automatically.
Step 2
Wait for iTunes to finish syncing with the iPhone. If the iPhone does not sync automatically, click on "File" and scroll down to "Sync iPhone." Once the iPhone has finished syncing, eject it. All of the iPhone's apps, music, pictures, etc. will be stored in iTunes.
Step 3
Connect the iPad to your computer and iTunes using the USB cord.
Step 4
Click on the iPad icon. Examine each tab for your music, pictures and apps to make sure that a check mark appears next to it.
Step 5
Click on "Sync" to sync the iPad to the iTunes library. Your iPad and iPhone will now share the same information, essentially being synchronized.