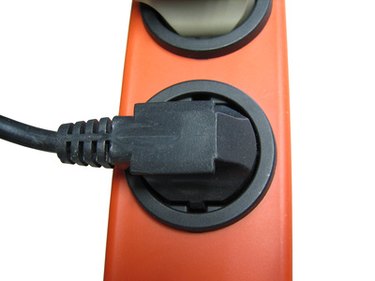 APC battery backups provide computer users with a defense against commercial power loss by switching a computer's power from commercial electricity to battery power when the battery backup detects a loss of commercial AC power. While on battery backup, a user can save work and close programs to avoid the data loss and possible computer damage that may result from an abrupt system shutdown due to a power outage. When an APC battery backup fails to turn on or provide battery power when commercial power is lost, troubleshooting is needed to determine the cause of the problem.
Step 1
Plug the battery backup into a working electrical outlet. If the battery backup turns on when the power button is pressed, then the problem may be that the previous electrical outlet is faulty. Proceed to step three. If the battery backup doesn't turn on, proceed to step two.
Step 2
Reset the circuit breaker on the battery backup. APC battery backups have a labeled circuit breaker button located on the unit near the phone line, fax line, USB, network and coaxial cable inputs. Press the button to reset the circuit breaker. Power on the battery backup by pressing the power button. If the battery backup powers on, proceed to step three. If the battery backup doesn't turn on, proceed to step six.
Step 3
Determine if the battery backup is charged and providing battery power. With the battery backup on and plugged into a working electrical outlet, plug a computer monitor into one of the battery backup outlets labeled "battery backup plus surge protection" on the battery backup. (APC power supplies have some outlets that provide only surge protection while the other outlets provide surge protection plus battery backup.) Turn the monitor on. Unplug the battery backup power cord from the wall outlet. If the monitor remains on, the battery is holding a charge, supplying electrical power and the battery backup is working properly. If the monitor goes off, proceed to step four.
Step 4
Charge the battery. Plug the battery backup into an electrical outlet and allow the battery to charge for 16 hours. This will fully charge the battery.
Step 5
Test battery charge. Once the battery is fully charged, repeat step three. If the monitor stays on when power is interrupted to the battery backup, the issue is solved and the problem resulted from an incompletely charged battery. If the monitor turns off when power is interrupted, the battery within the battery backup is faulty and needs to be replaced.
Step 6
Replace the battery backup unit. The unit itself is faulty. If the battery backup is under warranty, contact APC to request a replacement.