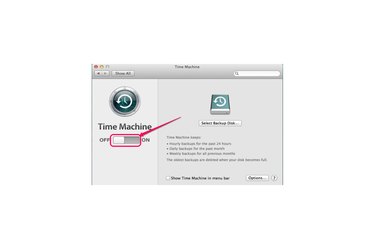 Time Machine may not be useful for you if you don't have an external drive to store your backed up files or if you make manual backups of important files. You can turn it off in Settings -- and even after you've turned off the automatic backup function of Time Machine, you can still use it to back up your files manually.
Step 1
Click the Apple icon on the top left corner of the screen and choose "System Preferences" from the drop-down list.
Step 2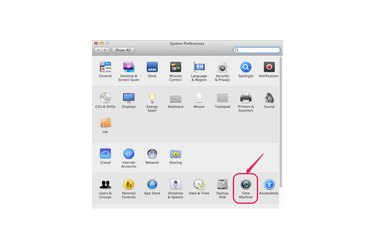 Click the "Time Machine" icon.
Step 3
Click the slider to turn off Time Machine.
Tip
Time Machine provides an option called "Show Time Machine in the menu bar" that allows you to easily access Time Machine without having to go to Settings.
Turning off Time Machine doesn't mean you can no longer back up your files. Even though it won't automatically back up your files at specific times, you can manually back up files in Time Machine by clicking the "Time Machine" icon in the menu bar and choosing "Back Up Now."
Rather than turning off Time Machine completely, you can set it to back up only certain files that are important to you or to exclude large files by clicking the "Options" button in the Time Machine window. You may want to exclude files that never change, such as music, video, or pictures, so that they are not repeatedly copied for no reason.
Warning
If you do use Time Machine to manually back up your files and you want to store them on an external drive with an unsupported format such as NTFS, you can erase the drive and reformat it. Make a backup of the files on the external drive before reformatting, since they will be lost during the process.(see reference 1)