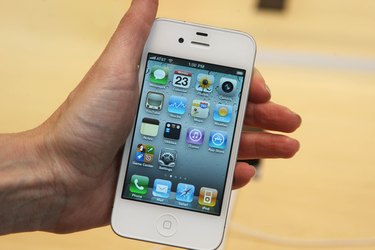 Unlike a majority of cell phones, the iPhone's silent feature is situated around the phone's border, not as option within the phone. Knowing how to find the silent mode on your iPhone will allow for calls and texts to be received via vibrations, a quiet approach to notifications.
Step 1
Locate the silent mode switch on your iPhone. The switch is on the top left-hand side of the phone, above the volume control and below the corner of the phone.
Step 2
Flip the switch downwards with your finger, towards the bottom of the phone.
Step 3
Observe the iPhone's screen for an icon showing a bell with a line through it to confirm that the phone is now on silent.
Step 4
Look at the silent mode switch; the iPhone will remain on silent as long as an orange dot is glowing on the switch.
Step 5
Remove the silent mode from the iPhone by moving the switch upwards.