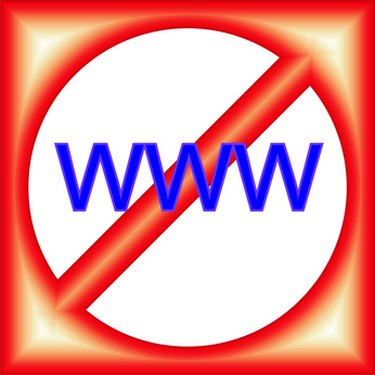 Educational institutions, such as schools and libraries, corporate offices and homeowners impose Internet restrictions. The Web restrictions block Internet users from being able to access certain sites that may contain inappropriate content or pose a distraction from work or school-related tasks. Sometimes harmless or pertinent websites are restricted by the network filtering settings and software. In these situations, you can utilize a proxy to solve the issue. However, another access point for Internet freedom without a proxy is a Virtual Private Network, also known as a VPN.
Step 1
Go to the official Strong VPN Web page to utilize its private network in which you gain unrestricted Web access with a neutral IP address that ensures anonymity and security. Strong VPN also provides live technical support seven days a week, a fast network connection and no bandwidth fees. Strong VPN offers account options with monthly or yearly options. Special deals are available for customers who choose a yearly account activation. If you are unsatisfied with the Strong VPN service, you can receive a seven-day money back guarantee. Ultimately, this option allows you enough time to take the VPN for a test drive and start unblocking websites without a proxy.
Step 2
Visit the Happy VPN website to regain the access to restricted Web pages being blocked by network settings. Happy VPN supplies you with a new IP address, providing anonymity and security while you browse the Internet without the surfing limitations set by the network administrator. To begin using Happy VPN's service, decide whether you need a monthly or a three-month account. Select and pay for the account plan of your choice. Complete the application installation upon being prompted. Afterward you can unblock websites without a proxy and navigate the Web anonymously and securely.
Step 3
Access the VPNGates official website to be able to unblock blocked websites without using a proxy. The VPNGates secured server ensures protection and anonymity by linking your Web activity to an unrelated IP address. In addition to complete Internet freedom to visit all blocked sites, VPNGates features instant messaging ability, online television access, secured Web access in unsecured locations and unlimited bandwidth for faster browsing speeds. Account term choices range from monthly, quarterly, semiannual and annual. Examine the VPNGates account pricing offered by scrolling to the center of the Web page. Select the option that is suitable for you and open your account to begin unblocking any blocked Web content.