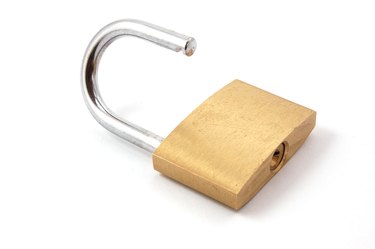 When you open a Microsoft PowerPoint presentation and see a yellow banner at the top of the window with the message "Marked as Final," you're working in a document that its author locked to protect it from additional edits. Behind the scenes, making a PowerPoint file read-only sets the value of the document's "Final" property to "True." Unless you re-enable editing, you can scroll through the file and preview its contents, but you're limited to look-but-don't-touch access. You don't need programming skills or advanced editing abilities to switch off that protected status.
Step 1
Verify your document's read-only status. Along with the yellow banner below the Microsoft PowerPoint ribbon, look for the words "[Read-Only]" after the name of the file in the title bar. The File and Information tabs of the ribbon also display notices about restricted permissions.
Step 2
Click on the "Edit Anyway" button in the yellow bar below the PowerPoint ribbon. The document's status changes from read only to editable. You also can switch to the Info tab of the ribbon, click on the "Protect Presentation" button and choose "Mark as Final" to deactivate the feature through the same process that enables it.
Step 3
Save the file under a new name to maintain an undisturbed copy of the original document. Creating a new version of the file preserves the author's work as is, which may form a critical part of a group workflow.