When you delete a file on your computer, the action is usually never final. Instead of complete and final obliteration, the deleted file is sent to the Mac trash can or the Windows recycle bin. These destinations serve as containers that hold the deleted files until they are automatically deleted by the computer or are restored or deleted by the user. Using the trash can or recycle bin interfaces, you can choose to restore or completely destroy files you have deleted.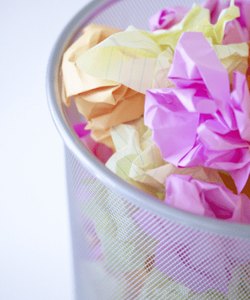 On the Mac
Step
Locate the trash can icon on the left-hand side of your screen. The icon will always be on the bottom of the sidebar.
Step
Click on the trash can icon.
Step
Change the view to show a list. The first "view" icon on the top bar of the "Trash" window shows the contents of the trash can as icons. The second "view" icon shows a list view, the third icon provides a more detailed view for each file, and the fourth icon allows a larger file preview.
On the PC
Step
Find the Windows recycle bin on your desktop. If you cannot find the recycle bin, click on the "Start" menu and open the "Control Panel."
Step
Click "Appearance and Personalization," then select "Personalization."
Step
Click on "Change desktop icons." Check the box next to "Recycle bin" and then click "OK."
Step
Go to your desktop and double click the recycle bin (see resources for icon examples). The recycle bin window will appear, listing any recently deleted files.