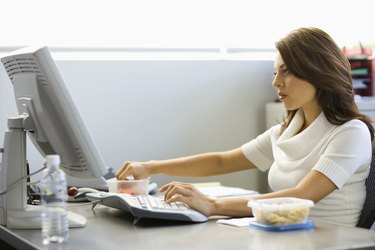 From time to time, it is necessary to format your hard drive to reinstall Windows. Formatting the drive from your BIOS screen is done by changing the settings to boot automatically from disk. When the disk is loaded upon restart, you will receive a message asking whether you want to reformat the drive. A Windows disk is required to be able perform the format, since there are no direct methods for formatting through the computer's BIOS alone.
Step 1
Back up all of your important data, like Word documents, software-related files and drivers, to an external storage source. Recordable media and external drives will work perfectly, since they are not connected to the drive that you will be formatting.
Step 2
Restart your computer by clicking "Start," "Shut Down" or "Turn Off Computer," then "Restart."
Step 3
Enter your computer's BIOS screen by pressing the key (or keys) indicated at the beginning of the computer's start up process. Usually, it is "Del" or "F8."
Step 4
Scroll down through the list to "Boot Priority Option." This is where you make the settings for BIOS to start automatically from disk, which is needed for formatting the drive.
Step 5
Change the "Boot Priority Option" to boot first from CD by using the arrow keys to toggle between the options for priority.
Step 6
Restart your computer and make the selection to boot from disk when asked.
Step 7
Delete the current partition on the drive by following the commands that are provided on the screen.
Step 8
Choose the unpartitioned space that you have just created and create a new one.
Step 9
Format the new partition with either an "NTFS" or "FAT" filing system. Your drive will now be wiped and you can install Windows.