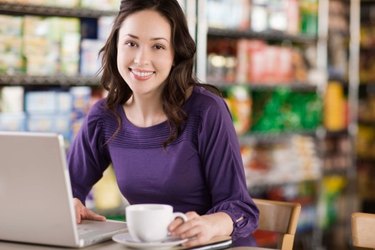 Twitter -- the social networking and "mini-blogging" website -- allows users to block one another. There are many reasons why you may choose to block someone on Twitter; maybe you don't want them to be able to see your tweets, or even know that you have an account. While Twitter does not notify someone when you block him, an individual may still be able to figure it out based on the website's settings.
What Blocking Means
Blocking someone on Twitter changes the way they can access your account. They will not be able to send you direct messages, nor will they show up on your list of "followers" (individuals who subscribe to your tweets). The process is reciprocal; if you block someone from following your account, you won't show up on their list of followers either.
Just because you've blocked someone doesn't mean they can't see your tweets. If your profile is public, anyone can still view your tweets by visiting your Twitter page. For example, if your Twitter name was "@johnsmith123," an individual could find your account by typing "http://www.twitter.com/johnsmith123" into their browser's address bar.
How to Block Someone
Visit the Twitter page of the individual you wish to block, either by typing the URL directly into your web browser, or by clicking on a link to the person's page on your screen. Underneath the person's name and user picture, you'll see a light gray bar. On the far left side of this bar is a green "+" icon with the word "Follow" next to it; on the far right side is an icon of a gear with an arrow next to it. Click on this gear icon to access a drop down menu, and select "Block" from the list of options. This will block the individual.
Going Private
If you want to keep a blocked user from viewing your tweets entirely, you have to change your account settings. Click on your Twitter account name at the top right side of your Twitter home page, and select "Settings" from the drop down box. Scroll down to the bottom of the screen and click the box next to "Tweet Privacy." Tweets posted after you click this box will not be public; only individuals of whom you approve will be able to view them.
Exceptions
Twitter does not notify users that you have blocked them. However, this doesn't mean the individual still can't figure it out on his own. If the user was following you prior to being blocked, she may notice she no longer is listed as one of your account's "followers." Blocked users may also notice they no longer get your tweets as part of their feed, and have to directly access your Twitter page to see this information.