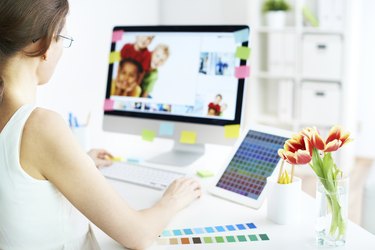 Computerized art got its widespread on the original Macintosh computer, with its black-and-white bitmap program coupled with a mouse. Since then, drawing programs have moved into several creative and publication niches. The best drawing program will vary with the final purpose of the artwork created, and secondarily, on price. One prior metric of drawing program utility -- integration with digitizer tablets -- is no longer valid; every art program here works with one with minimal setup.
Color Spaces and Print Versus Web
One of the places where professional art software differs from consumer art software is color space management. There are two widely used color spaces: CMYK color, which measures the color you get when light is reflected off of a piece of paper covered with a mixture of cyan, magenta, yellow and black inks, and RGB color, which is the color you get from light transmitted by a computer screen made up of red, green and blue pixels. If all of your art will be seen on a computer screen, RGB is the only color space you need. Professional art programs, like Illustrator and Photoshop, are meant to work in both print and Web enviroments. They can handle both CMYK and RGB color spaces, and may have Pantone color support. (Pantone can be thought of as a very specialized version of CMYK color.) Professional art software will have access to Pantone swatches for exact color matching on a printing press. Sending RGB color down to a print shop is a recipe for muddy and dark colors on your initial print proofs. Publishing CMYK art to the Web will cause most browsers to not display the art at all.
Vector-based Art Programs
Vector art is generated by drawing programs that define objects with mathematical functions rather than specifying the color of each pixel in a rectangular array. This means that vector art is resolution-independent. It can scale up or down without loss of detail or turning blocky. The industry standard vector art program is Adobe Illustrator, with Corel Draw competing on the consumer side of the market on price. If you're drawing art that needs to go to a print ship, the print shop will ask for it in Illustrator format, but Corel Draw can open and save Illustrator files. The open source software that serves this need is Inkscape, and while it's free, its default use is creating vector graphics for the Web in SVG format; Inkscape lacks CMYK color support. All three of these programs the ability to group objects on specific layers together and deal with them individually.
Bitmap and Photo Editors
The king of all bitmap editors is Adobe Photoshop; the primary use of these programs is editing photographs and editing scanned drawings. In a drawing program that works with bitmaps, the art is made of pixels, which have an X/Y coordinate in the image and a color, defined by a number. Bitmaps are the most common kind of digital art file, and most of the major formats (JPEG, GIF, PNG, TIFF) are all bitmap formats. Photoshop, and most of its competitors, have features including layering, color selection tools, the ability to set gradients, transparency and alpha channel effects, as well as digital brushes that duplicate natural media brushes. Corel Paint is Corel's counterpart in the professional space to Photoshop, but most print workflows will assume Photoshop format. Microsoft's Paint.net is a surprisingly capable free replacement for the MS Paint program, and the open source alternative to Photoshop is GIMP.
Digital Painting Programs
While bitmap editors have brush tools that mimic natural media brushes, there are dedicated painting programs like Paint Tool SAI and Manga Studio that focus entirely on the digital painting experience. These programs are less resource-intensive and have less cluttered interfaces than Photoshop or GIMP. Both Paint Tool SAI and Manga Studio have perspective rulers. Manga Studio has tools geared towards inking comic art and coloring comic art, including the ability to set up panel layouts and multi-page documents. Most artists who use Paint Tool SAI do their composition in SAI and edit it in Photoshop.