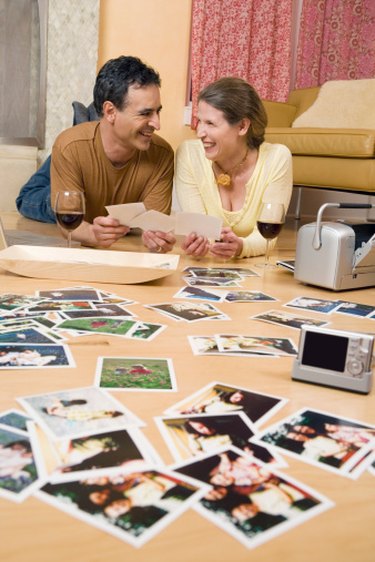 Home inkjet printers can produce a wide variety of prints, from text pages and day-to-day printouts to large posters and photographic-quality prints. The printers use either dye or pigment-based inks. Each has its own benefits and problems, and are suitable for particular uses. Using the wrong type of ink could result in poor image quality or reduced print life.
Dye Sublimation
Dye sublimation printers, or dye sub, were originally designed to produce full-scale proofs rather than final products. They contain longer-lasting ink than most other dye-based printers and can produce extremely bright prints. Most dye sublimation printers use a slightly different ink set than pigment or other dye printers. Called CYMO (Cyan Magenta Yellow Overcoating), this set eliminates black ink in favor of a clear overcoating ink that protects the print from air, moisture and UV damage.
Pigment Ink
Pigment inks use tiny particles of colored material to provide ink color, rather than paper-staining dyes. These pigments provide greater longevity than dye inks, including dye sub types, but can clog printers more easily. Some pigment inks also suffer from a problem called metameric failure and don't look the same shade from all angles. They may have a greenish or bronze color cast when viewed from the side or under some lighting conditions. Pigment inks offer a narrower color gamut than dye sublimation inks, but are considerably more stable in the long term. Most pigment ink printers also offer more subtle color shading, since they use up to eight different ink colors: cyan, light cyan, magenta, light magenta, yellow, light gray, medium gray and black.
Longevity
Inkjet prints usually last only a few years before fading or suffering damage from UV radiation. However, some inkjet prints offer similar longevity to that of photographic prints. According to Wilhelm Research, pigment printers using appropriate paper could survive up to 200 years in dark storage. Dye sublimation printers offer a slightly lower lifespan; in dark storage, they offer a little more than 100 years of longevity. Both dye sub and pigment prints survive for shorter periods than their rated lifespan when displayed in the light. Framed under glass, a print rated for 200 years in dark storage can last as little as 40 years or as many as 100.
Considerations
Ink type is only one factor affecting print quality. Without pH-neutral paper coated to receive the appropriate ink, prints may fade or degrade more quickly than they should. Third-party inks and paper can also produce unexpected results, including changes in color gamut, poor gradations between colors and reduced sunlight or moisture resistance. While branded papers and inks usually cost more than third-party options, they greatly increase the chance of a high quality, long lasting print.