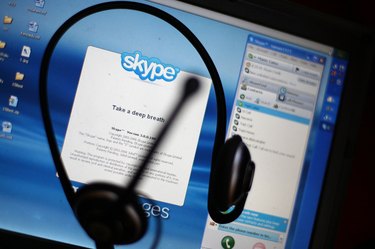 Skype is a peer-to-peer software application used to make audio and video phone calls over the Internet. The service is free when calling other Skype users; it's a fee-based system when calling mobile and landline phones. Skype also offers instant messaging, video conferencing and file transfer. Create a profile and username to find friends or others in the Skype directory.
Maintain Friendships
Skype helps close friends who no longer live near each other still maintain their relationship by being able to see or hear each other. Typical internet chat rooms instant messaging conversations are text-based; however, Skype offers the option to interact with others conversationally in real-time or with a slight delay based on proximity.
Video chats typically help better personalize sharing important news, such as getting engaged or becoming pregnant. Missionaries abroad can use Skype to feel encouraged by friends or raise financial support with a church by being virtually present during a service. Companies may opt to talk screen-to-screen during an employee application process or business deal to save on the cost of flying someone in. Parents can install Skype on a mobile device and require their kids to show them where they are as a step of increased accountability.
Play Games
Friends can use Skype to play games with each other via a video phone call. If each player owns a chess or checker board, they can coordinate moving the pieces throughout the game. Skype can also help maintain accountability during trivia games to ensure that the other person isn't looking up answers. Video scavenger hunts can take on a whole new level of play by sending out teams and seeing who reports in first at various locations they have to visit.
Network
Use the video conferencing feature to network your friends with your favorite business contacts. Set up a room and invite people for a private or public conversation on a particular topic. Invite everyone to share their expertise and ask each other questions to better expand their pool of professional contacts.
Tutoring and Feedback
If you or someone in your house is struggling in a school subject, a friend can be a helpful tutor even from a distance. Utilize Skype's video or audio phone calls to have extended conversations without worrying about creating a large phone bill.
Before you give an important presentation, you may want to practice your speech before a live audience. Use Skype to connect with friends, so they can give you instant feedback on what to work on.