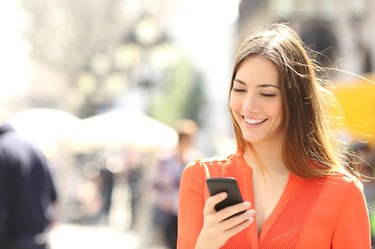 Talking Tom Cat is an application for the Android OS and iOS. Tom Cat responds to the user's touch and voice. The Talking Tom Cat application can record the Tom Cat's reactions and directly post the video to Facebook or YouTube. You can also save the video to the device's internal memory.
Recording
Step 1
Open the Talking Tom Cat application. On iPhones, scroll left or right on the screens to find the application, and tap it to open it. On Android phones, open the application drawer on the phone, then scroll through the alphabetically sorted application list until Talking Tom Cat is on the screen. Tap it to open it.
Step 2
Look in the upper-left corner of the screen for a small, round button with a video camera on it. Tap the button to begin the recording.
Step 3
Talk to the Tom Cat or use the items available to create a custom video. When you have finished creating the video, press the camera button on the application again. A menu will appear with a list of available actions for the video. Select the desired action to complete the process.