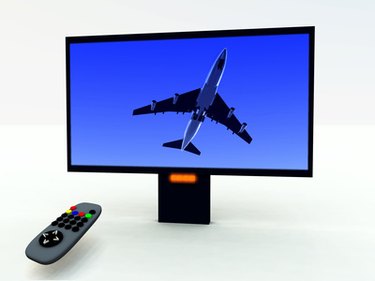 Televisions can experience any number of technical issues, up to and including a loss of picture and sound altogether. This issue in particular can have many different causes. Try troubleshooting the problem before spending money on repairing or replacing the television. Possibly you can restore the picture and sound to your television and save yourself considerable time and money.
Step 1
Verify the TV is powered on by pressing the power button on the TV's remote or the front panel of the set. This may seem like an obvious step, but many TVs are equipped with a standby light that will illuminate if the TV is turned off, making it appear that the TV is on when it is not
Step 2
Cycle through the TV's video inputs to verify that your TV is set to the right one. For instance, if you are attempting to use a digital cable converter box that is plugged into the Video 1 input and the TV is set to a Video 2 input that has nothing plugged into it, the TV will not display any picture or sound and may even say "No signal" on the screen. To cycle through the inputs, use the input selection button, typically labeled "input," "source," "TV/video" or the like.
Step 3
Re-seat the video and audio input connections to verify a loose cable is not causing the TV's loss of signal. If you have a coaxial cable connected from your wall cable jack directly into the TV, it may have come loose thereby eliminating all picture and sound on the TV. Locate the connection cable or cables of whatever device you are attempting to watch and unplug them from where they plug into the TV. Plug them back in and check for a signal. If there is still no picture or sound at this point, the best option is to contact Panasonic technical support for further assistance.