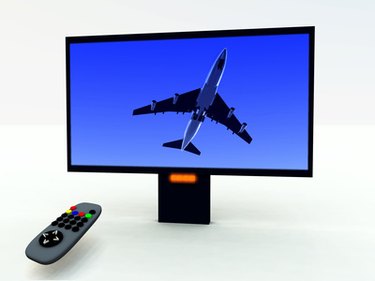 If you use an RCA television to view programming, you may occasionally run into image issues where the picture on the TV is unusable (such as from snow, or the station doesn't even appear on the screen). This is an issue you can typically correct yourself without the aid of a technician. However, the issue may be with your cable/satellite service provider, in which case you cannot fix the problem on your own.
Step 1
Inspect the cable connection between your RCA television and the device you are receiving the picture signal from. The video cables need to be completely inserted into both the "In" port on the TV and the "Out" port on the connected device.
Step 2
Power on your television and make sure the TV is connected to the right input. If you are trying to watch cable TV through an HDMI port, press the "Input" button on the RCA remote and select "HDMI." If the television isn't on the correct setting, you aren't going to receive any signal.
Step 3
Connect a digital converter box to your TV if you use an antenna and the television is an analog set. Without the converter box, you can't watch any programming.
Step 4
Contact your cable/satellite provider. If all the cables are connected properly and your TV is on the correct setting, the issue is probably with the cable/satellite receiver or the connection running into your home. The service provider can inform you how to fix the issue.