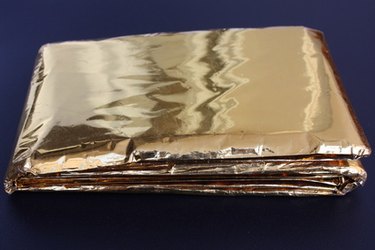 Mylar is a thin polyester film manufactured by DuPont Teijin Films. According to the Encyclopedia Britannica, strong synthetic fibers of polyethylene terephthalate are stretched and used to produce Mylar. Since its invention in the early 1950s, Mylar has been used in a broad array of fields, having several applications in electronics, magnetic media, imaging and graphics, industrial and packaging markets.
Insulation
Mylar is made reflective or metalized by sputtering a thin film of metal onto its surfaces. Much like aluminum foil, the reflective Mylar has one shiny side and one dull side. This type of Mylar is less permeable to gasses and reflects up to 99 percent of light, which is why it is often used in insulation. If used in a cold environment, place Mylar inside the structure with the shiny surface facing inward to reflect escaping heat and warm the interior. If used in a warm environment, place Mylar on the structure's exterior with the shiny surface facing outward to reflect the sun's heat away and cool the structure's interior.
Musical Instruments
Since the 1950s, Mylar has been used in the production of drumheads, the thin material that covers one or both open ends of a drum. When stretched over the edge of the drum, the Mylar material provides a pitch, tone and consistency that was previously unattainable. Mylar drumheads are still common today and are manufactured in single- and double-ply versions.
Emergency Blankets
Much like Mylar is used for insulation of a building, it is also used to stabilize body temperature. Reflective emergency blankets were first used by NASA and are used to reflect a person's body heat back to their body. The blankets are often found in outdoor survival kits and are commonly used for shock victims. In an increasing trend, marathon runners are using Mylar blankets after completing a race to prevent their body temperatures from dropping so rapidly after running.
Packaging
Because metalized Mylar is less permeable to gasses than regular plastic, it is often favored in the food packaging industry. When used as a foil bag, Mylar provides a flexible surface that has supreme barrier properties and a high puncture resistance, which keeps food fresher longer and increases the shelf life of a product. Mylar bags are also used to preserve pharmaceutical products, seeds and tissue samples that are sensitive to changes in moisture and oxygen.
Hydroponic Gardening
Rather than growing plants in soil, hydroponic gardeners cultivate plants in a nutrient-enriched water, usually indoors. Metalized Mylar sheets are affixed to the walls near the gardening system to reflect wasted light back to the plants, which helps the plant grow faster and improves the lighting efficiency of an indoor garden.