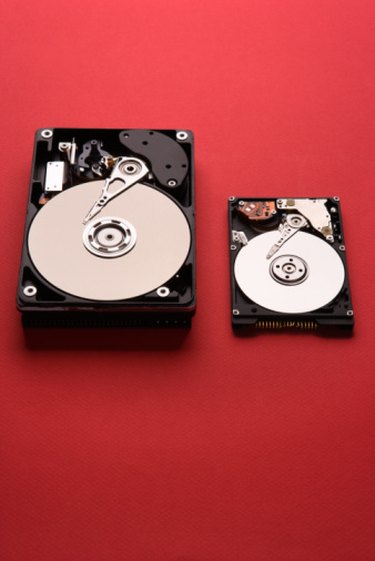 The 2.5-inch hard drive, most commonly found in laptop computers, was first introduced in 1988 by Prairie Tek. That first drive held just 20MB of data. Today, 2.5-inch serial-ATA (SATA) drives are available in capacities up to 1TB. But many people are unaware that 2.5-inch drives are not actually 2.5 inches wide.
Actual Dimensions
A 2.5-inch SATA hard drive actually measures 2.7 inches wide, 0.37 inch tall, and 3.96 inches long. According to The Tech Report, the 2.5-inch designation actually refers to the size of a typical laptop drive platter, the disc inside the housing that data is actually recorded on. The average 2.5-inch drive weighs slightly more than 4 ounces.
Comparison with Desktop Drives
The 2.5-inch SATA drive's compact form factor may be best appreciated when compared with a standard 3.5-inch desktop hard drive, which measures 4 inches wide, 1.03 inches tall, and 5.79 inches long. When comparing total volume, the 2.5-inch drive is roughly one-sixth the size of the desktop drive.
Advantages of Smaller Size
The 2.5-inch SATA drive's relatively small size has led product designers to find uses beyond the laptop. For example, 2.5-inch drives are commonly found in portable backup storage drives, the Xbox 360 and the PlayStation 3. They are even starting to replace 3.5-inch drives in enterprise storage applications.
Similarities with Larger Drives
While 2.5-inch drives are much smaller than 3.5-inch drives, they do share a number of similarities. For example, the 2.5-inch SATA drive uses the same power and data connections as the larger drive. Basic construction is similar as well. Both size drives use a series of internal platters for storing data, a movable read/write head to read and record data, and two internal motors to spin the platters and move the read/write head.