If you try to use your iPhone and find that its screen stays dark, you shouldn't immediately panic. Several minor explanations could account for your iPhone's Black Screen of Death, or BSOD as it's commonly termed. If you have not recently dropped the phone, exposed it to water or installed new software, the solution is probably straightforward. However, if your phone has permanent damage, it may need to be replaced.
Power
It may seem obvious, but many worried iPhone owners see a black screen because their device has simply run out of power. To see if it is a power problem, toggle the "Mute" switch on and off. If your phone vibrates, there is a problem with the display; if not, the phone needs to be charged. If your phone does not seem to charge when you plug it in, you may have a problem with your charging cords, wall outlet, or computer. Test different cords and wall outlets, and make sure your computer is on, not in standby, and doublecheck that it is fully-charged itself.
Restart and Reset
If there is a problem with your display, you can first attempt to restart the device. Hold down the "Sleep/Wake" button on the top of the phone for about 10 seconds. Ideally, the "Power Off" slider should appear. If it does, simply slide the button to power the device off, then turn the phone back on after about 30 seconds. If that does not work, you can also attempt to reset the device by holding the "Sleep/Wake" button and the "Home" button simultaneously for about 10 seconds. The Apple logo should appear, followed by your standard lock screen.
Restore
If you have recently installed new software, jailbroken your phone or otherwise damaged its files, you may need to restore the phone. This will return your iPhone to factory settings, reinstalling the basic iPhone Operating System, and it should fix any software problems that may cause a black screen. To do this, connect your iPhone to your computer and open iTunes. Click your iPhone's name under "Devices" on the left side of the iTunes window; then click the "Restore" button in the center of the window. Follow the prompts to complete the process.
Physical Damage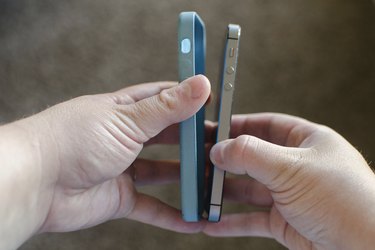 If you restore your iPhone and still experience a black screen, your phone probably has some physical damage. This can be caused by a variety of factors, including exposure to water, exposure to too much heat or cold, severe scratches, or even accumulated dirt. First, if your iPhone has a case or a protective film on its screen, remove these items. Then, wipe the device all over with a damp microfiber cloth. If the screen is still black, take your phone to your local Apple Store to have a Genius diagnose the problem.