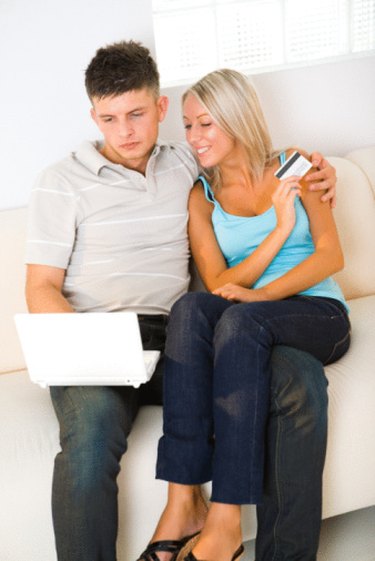 When website operators and marketers discuss referral URLs, or web addresses, they aren't always talking about the same exact thing. However, a referral URL always involves some method of tracking how a website visitor arrived at a certain page. These URLs help companies reward marketing affiliates, compile data on the effectiveness of different promotional methods and find out which websites have voluntarily linked to them.
Affiliate Links
Many companies run affiliate or referral programs that pay individuals and other businesses (affiliates) to refer customers to them. Such companies have to determine which affiliate sent each customer, so they provide every affiliate with a different referral URL to use when promoting the product or service. Each URL contains an identification name or number indicating the specific affiliate. The affiliate ID may appear in an order form that the potential customer sees or remain in the URLs of different pages as he travels around the website, considering whether to make a purchase.
"Cookie" Activators
Some businesses use referral URLs for affiliates that accomplish the same goal, but work in a different way. When a potential customer uses the referral URL, it places a tracking "cookie" on her computer that indicates which affiliate sent her to the website. Then it redirects her browser to the company's main website. An advantage is that this process retains the affiliate information even if the customer leaves and returns to the website later. However, this technique doesn't work when people turn off "cookies" in their web browsers.
Link Location
A significantly different type of referral URL applies to any link an Internet user selects. The referrer is the URL (address) of the page where a user clicked on a link to another website, according to Host Statistics. For example, if someone clicks on a link to example.org at example.com/links.htm, then example.org's visitor log will show example.com/links.htm as his referral URL. A website visitor has no referral URL if he directly enters a URL in the address bar or selects it from a web browser bookmark. Companies can use referral URLs to target advertisements to visitors based upon the previous websites they visited, according to Business Insider.
Exceptions
The referral URL doesn't always tell the truth; it's possible to hide or fabricate a URL. Some web browsers have an option not to send referral URL information to websites. Users may also do this manually by copying the link address and pasting it into the browser's address bar. Websites can use services that block the referral URL when people click on their links, instead supplying the address of the blocking service.