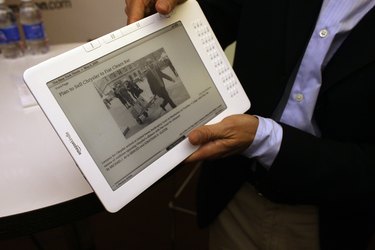 Adobe Acrobat software is used to create PDF files, and Adobe Flash Professional generates online content. Adobe distributes free helper applications so people can read or view the content produced by Acrobat and Flash Pro: Adobe Reader and Flash Player. Although they are produced by the same company, they are more different than they are alike.
Uses for Adobe Reader
Adobe Reader opens PDF files, a file type Adobe developed for sharing documents across platforms without the risk of losing formatting. PDF files are usually text and graphic documents, but they can include interactive audio and Flash video content. You cannot create new PDF files or modify the content in PDFs using Adobe Reader. To make PDFs, use Adobe Acrobat or any other program that can export to PDF format such as Microsoft Word. In addition to reading documents in Adobe Reader, you can fill out PDF forms by adding text, checking boxes and importing your signature using a webcam.
Uses for Flash Player
Like Adobe Reader, Flash Player only serves to load existing content -- it can't create new files. The content Flash Player displays are animations, streaming video and audio, and interactive features used on websites. Flash is commonly used in online computer games, and many sites, including YouTube, use Flash to embed video on Web pages.
Differences in Installation
Adobe Reader is a standalone desktop program. You install it on your computer and run it whenever you want to open a PDF file. Flash Player installs as a Web browser plugin and reads Flash files embedded in websites. You don't run Flash from a desktop icon or the Start screen. When you open a website that uses Flash, Flash Player takes over automatically. Although Adobe produces a standalone version of Flash Player that runs without a Web browser, it's designed primarily for Flash developers to test their creations, rather than for personal use.
Differences in Compatibility
Even though Adobe developed the PDF format, you can open PDF files without installing Adobe Reader. Some users choose to avoid the program because of its frequent security updates and large size. Alternatives include "Reader," an app included in Windows 8 and the PDF viewers that are part of Firefox and Chrome Web browsers.
Flash games and videos are not compatible with alternative software. According to the W3 Techs website, about 13 percent of websites use Flash at the time of publication. To view Flash content on these sites, you must install Flash Player or use Chrome, which has Player built in. Some sites use HTML5 as an alternative to Flash, but the two technologies aren't interchangeable: If a Web designer chooses to create a site with Flash Professional, you must use Flash Player to view the content on the page.