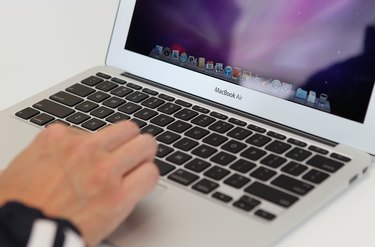 With the Dictation & Speech utility in Mac OS X Mountain Lion, you can convert speech into text without downloading any additional software. Dictation is turned off by default, so you will have to turn it on from System Preferences before you can use it. Once it's set up, just press the keyboard shortcut to begin dictating to your Mac. Your words aren't actually converted on the Mac itself, so you will need Internet access to use this feature. What you say is sent to Apple's servers, which convert your words and send the text back to your Mac.
Setting Up Dictation
Step 1
Launch System Preferences from the Apple menu in the upper left corner of the desktop. Click the "View" menu and select "Dictation & Speech."
Step 2
Click the "On" toggle beside "Dictation." A dialog box opens informing you that what you say is sent to Apple to be converted to text. Other information from your Mac is also sent to Apple, including contacts. Click the "Enable Dictation" button.
Step 3
Click the "Shortcut" menu if you want to change the keyboard shortcut you will use to enable dictation. The default shortcut is to press the "Fn" key twice, but not all keyboards have an "Fn" or function key.
Step 4
Click the "Language" menu if you want to change the default language from English (United States) to another version of English or another language like Spanish, Chinese or German.
Step 5
Press "Command" and "Q" simultaneously to quit System Preferences. Your changes are saved automatically.
Using Dictation
Step 1
Launch an application like TextEdit, Notes, Mail or any other application that gives you an option to enter text.
Step 2
Place the cursor where you want the text to appear. Press the "Fn" key twice on the keyboard or use the shortcut you specified while setting up Dictation & Speech. A small pop-up window appears with a microphone icon.
Step 3
Speak into the microphone on your Mac. When you are done, click the "Done" button below the microphone icon or simply press "Enter" on the keyboard. Wait a second or so for the words you spoke to appear on the screen. If the words don't appear correctly, try to speak more slowly and clearly, within two feet or so of the Mac's microphone.