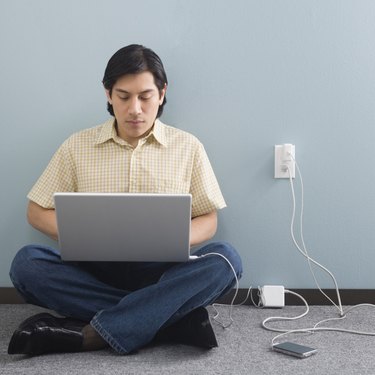 A lot of us use an iPhone to conduct business, such as making and receiving phone calls, checking emails and setting appointments, so having a nonworking device can wreck havoc on your day. In some cases, your computer stops recognizing your iPhone after a restore; in other cases, your phone may suddenly stop connecting to your computer. Before panicking, try some of these basic troubleshooting steps to see if your phone becomes operable again.
USB or Cable Issues
A faulty cable or USB port can prevent iTunes and your iPhone from connecting. Try testing the connection with a known-good cable or another iOS device. If the computer fails to recognize your iPhone, a faulty cable could be causing your issue. Another possibility is that you're connecting to a USB port without enough power to read your device. Try plugging your iPhone directly into a computer's USB port, without using a USB hub or the dock connector. Additionally, unplug other peripheral devices, such as printers, scanners and cameras.
Update Your Operating System and iTunes
Check to ensure that your computer is running the latest version of iTunes and that your operating system is up to date. On a Mac, you can go to the "Apple" menu and select "Software Update." On a Windows-based computer, navigate to the "Start" menu and select "Apple Software Update." If you update your software, restart your computer after the update finishes and connect your iPhone to see if the issue is resolved.
Reinstalling iTunes on a Mac
Before reinstalling the iTunes application, test your connection in a different user account or, if possible, on another computer. If your iPhone isn't recognized on another computer, it's likely a problem with your device and you can try entering DFU mode. If it's recognized in another account or another computer, there's an issue with your account settings or computer.
If you're running OS X 10.6.8 or earlier, you'll need to delete the iTunes application and the Apple Mobile Device Service. To remove the latter, delete "AppleMobileDevice.kext" located in "System | Library | Extensions" and "AppleMobileDeviceSupport.pkg" found in "library" and then "receipts." Empty your trash, restart your computer and reinstall iTunes. If you're running a later version of the operating system, delete the iTunes application, restart your computer and reinstall the program. Connect your iPhone and see if the issue is resolved.
Reinstalling iTunes on a Windows-Based Computer
Prior to reinstalling iTunes, check the "Device Manager" to see if an item labeled "Apple Mobile Device (Recovery Mode)" is present. If it is, navigate to "USB Composite Device" and right-click the text. Choose "Update Driver Software," select "Browse my computer for driver software," then "Let me pick from a list of device drivers on my computer." Click "Have Disk" then browse to "C: | Program Files | Common Files | Apple | Mobile Device Support | Drivers" and double-click "usbaapl.inf" to install it. Check to see if the issue is fixed.
If the item "Apple Mobile Device (Recovery Mode)" isn't present in the Device Manager, uninstall, in the following order, "iTunes," "QuickTime," "Apple Software Update," "Apple Mobile Device Support," "Bonjour" and "Apple Application Support," before restarting your computer and reinstalling iTunes. Reconnect your device and see if it's recognized.
Check for Software Conflicts
Security software may be preventing your computer and iPhone from communicating via iTunes. Try turning off or disabling any third-party anti-virus or security software applications on your computer. Additionally, if you're using a Windows machine, you can turn off software that automatically loads on startup and see if that resolves the issue. Run the "System Configuration Utility" by accessing the "Start" menu, selecting "Run" and typing "msconfig" (without quotes). Navigate to the "Startup" tab and uncheck "Load Startup Items," then click the "Services" tab, check "Hide All Microsoft Services" and click "Disable All." Restart your computer and run the blocked application, "System Configuration Utility." Check to see if iTunes now recognizes your iPhone.
Put Your iPhone into DFU Mode
If the previous steps fail to work, putting your iPhone into Device Firmware Update (DFU) mode could resolve the issue. Although commonly associated with jailbreaking, putting your iPhone into DFU mode can also resolve issues, such as iTunes not recognizing your iPhone. To enter DFU mode, open iTunes and connect your iPhone and computer. Turn your iPhone off, then simultaneously hold the "Home-Sleep/Wake" buttons for exactly 10 seconds. Release the "Sleep/Wake" button, but continue to hold the "Home" button until your computer recognizes the device. Even though the message in iTunes advises that your phone is in recovery mode, an iPhone displaying a black screen is actually in DFU mode.
Service Your iPhone
If none of the previous steps resolve the issue and your iPhone still isn't recognized by iTunes, bring your device to the closet Apple store or Apple Authorized Service Provider or call technical support. If your phone is less than a year old or you have purchased AppleCare+ and you're within the two-year period, then the problem will likely be covered by Apple's warranty. An iPhone not covered by the warranty may still be covered by Apple's out-of-warranty repair plans. As of the date of publication,. out-of-warranty service costs $229 for an iPhone 5, $199 for an iPhone 4S and $149 for all earlier iPhones.