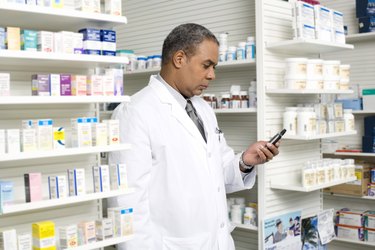 If your iPhone goes into recovery mode, you'll need to connect it to iTunes to restore it. Unfortunately, this means wiping all of your data and then restoring your last backup. If iTunes isn't recognizing the iPhone, you should try reconnecting it again at least three times before assuming there is something else wrong. A bad cable connection may be complicating your problems, as could an iCloud activation lock. Although it's less likely, there may be a problem with your software, so you can also check that before taking your iPhone in for repair.
Try and Try Again
Connecting an iPhone while it's in recovery mode can be tricky, so try a few times before giving up. First, turn off the iPhone by holding down the Sleep/Wake button for 5 to 10 seconds until a red slider appears on the screen and then dragging it. If the red slider doesn't appear, hold down the Sleep/Wake button and Home button simultaneously until it turns off. Ensure that you have the latest version of iTunes installed on your computer and connect the iPhone's USB cable into the computer. Hold down the iPhone's Home button and then connect the iPhone to its cable. Don't let go of the Home button until you see the "Connect to iTunes" message appear on the iPhone screen. When iTunes displays a message that it has detected an iPhone in recovery mode, click "Restore iPhone."
iCloud Activation Lock
If you enabled the "Find My iPhone" option in iCloud, an activation lock with iOS 7 may be preventing you from restoring the iPhone. The purpose of the activation lock is to prevent anyone from stealing your iPhone and then wiping its data so it can be used again. To fix this problem, log in to iCloud.com with your Apple ID and password and select "Find My iPhone." Click the "All Devices" tab and then select your iPhone. Because your iPhone is off, a gray dot or "Offline" message appears next to it. Click "Remove from Account." You should now be able to restore your iPhone.
Cable Problems
If iTunes isn't recognizing an iPhone, there may be issues that have nothing to do with recovery mode. Check your iPhone's cable to ensure it's not damaged and is connected properly. This can be a problem if you're using an older model with a 30-pin connector that doesn't always seat well into the iPhone's port. Remove any USB cables that you don't need at the moment, like a printer or webcam to ensure there aren't any USB conflicts on your computer. If you have an iPad or iPod Touch, try connecting that to see if iTunes recognizes it. If it doesn't, you may have a software problem.
Possible Software Issues
If the Mobile Device Support service or Apple Mobile Device USB driver are not working properly, either can cause a host of problems with iTunes, including the inability of iTunes to recognize an iPhone in recovery mode. Look for "Mobile Device Support" in the Uninstall a Program window of the Control Panel. If it's there, you may need to restart it in the Services window -- just type "Services" in Windows search. If it's not there, you'll need to uninstall all of the programs related to Apple from your computer: iTunes, QuickTime, Apple Software Update and Apple Application Support. To see if there's a problem with the driver, type "devmgmt.msc" in Windows Search and look for the Apple Mobile Device USB Driver in the Universal Serial Bus controllers section.