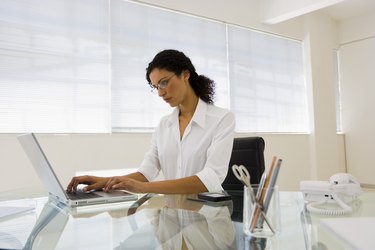 Cell phones are a lot more than just communication devices. Aside from mobile phones' common feature of receiving and sending messages, you can use them to take pictures and videos, play music, and browse the Internet. Connecting your phone to your PC will allow you not only to send and receive but also to delete phone text messages using your computer.
Step 1
Sync your mobile phone with your computer. Use the USB cable that comes with your mobile phone upon purchase. Connect one end of the cable to the mini USB port on your phone and the other end to a USB port in your computer.
Step 2
Wait for the computer to recognize the device. Follow the on-screen instructions of the "Add Hardware wizard" and then proceed to the installation process. Some phones are automatically detected by computers and do not need to be installed; other phones have "cell phone syncing software" that needs to be installed first.
Step 3
If your phone comes with a software disc, place it into your optical drive (CD/DVD-ROM). Install the software to your computer. When installation is finished, reboot the computer.
Step 4
Open the "Handset Manager" or the application that is linked to your mobile phone. Click "Get Connected" or "Connect (name of device) to the computer." You will be prompted that the device is already synced with the computer.
Step 5
Select the "Messaging" or "Messages" menu and then click on your "Inbox." Locate the message that you want to delete and then click on the "X" or "Delete" button. If the phone has a "Trash" folder feature, the deleted messages will be transferred only to the "Trash folder" upon deletion. If you also want to delete these trash messages, navigate to the trash folder and delete the messages.
Step 6
Back up messages that you want to delete by copying them to another folder in your computer in case you will need it in the future.