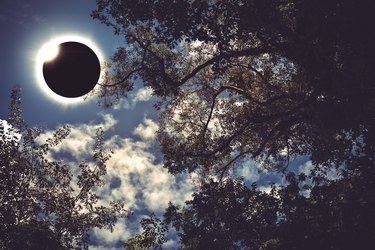 An eclipse of the sun will be visible for all of North America on August 21st for the first time in 38 years. If you look up at the sun at the exact right time on that day, you'll see the moon passing between the sun and the Earth.
Times for partial and total phases of the eclipse vary depending on your location (which you can find out here), but people along the path from Oregon to South Carolina will be able to see a total eclipse, meaning the moon will completely cover the sun, and there will be almost three minutes of darkness in the middle of the day.
For people who aren't aware of the eclipse, that'll certainly be a weird surprise!
If you plan on checking out the eclipse, it's important to protect your eyes with the right solar eclipse glasses — if you care about your eye balls, that is. The sun outputs way more power than your eyes can handle. So, if you're staring at a partial or total eclipse, and the sun comes out from behind the moon before you have a chance to look away, it can be damaging to your retinas. And retina damage would be a huge damper on the excitement of an eclipse.
Where to get glasses
Most U.S. libraries are giving out free solar eclipse glasses. You might also be able to find freebies at your public health department, local astronomical societies, and planetariums. Eyewear retailer Warby Parker is also giving away free eclipse glasses at each of its 44 locations.
But if you aren't able to get your hands on free glasses, check out these options, which meet the Federal Trade Commission guidelines, so you and your kids can watch safely:
Baader Planetarium AstroSolar Disposable Sun Eclipse Glasses
These disposable glasses will get the job done. Purchase for $5.50 per pair here.
American Paper Optics Eclipse Glasses
If you have a lot of eyes to protect, buy a 20-pack for $18.50 on Amazon.
Solar Eclipse Spectacles
These are a little pricey, but at least you'll have them on hand when the next eclipse comes around. Buy them on Amazon for $19.99.