Wireless headphones are a beautiful thing. They allow you to listen to music or talk on the phone without any wires getting in your way. But there's one problem you might run into while at the gym or traveling by airplane—they can't connect to wired headphone jacks.
Not to worry, the designers of Twelve South, a company that creates sleek accessories for Apple, have created a handy solution. The AirFly for Wireless Headphones is a tiny gadget that lets you use your AirPods or wireless headphones with any wired headphone jack.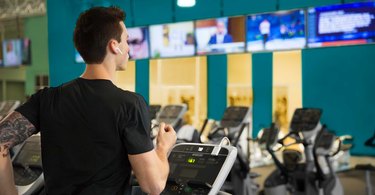 All you need to do is pair your headphones to the AirFly via Bluetooth and plug the device into a headphone jack. Your headphones will remain wireless, and you'll be able to watch or listen to whatever you want.
Just imagine, the next time you fly, you'll be able to get up to use the restroom without dealing with unplugging your headphones, leaving them on the seat, only to detangle them when you return. Hooray for one less airplane annoyance!
AirFly stays charged for up to eight hours and comes with a USB charging cable and travel pouch. Buy it here for $40.