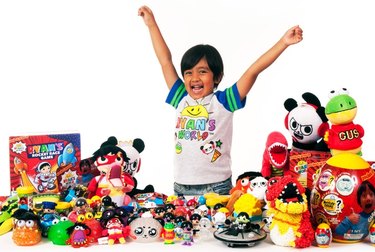 An adorable kid named Ryan is the star of the third most popular YouTube channel, and he's only 6 years old. To be fair, he's about to turn 7.
If you have young kids who spend time on YouTube, you've probably heard of Ryan ToysReview. Ryan, along with his parents and his younger twin sisters who make cute cameos, make videos that entail Ryan unboxing, playing with, and reviewing toys. All kinds of toys. Plus, he eats candy and does other fun things like visit Walmart to check out his new toy line.
Yep, in addition to being an insanely popular YouTube star, the super cute 6-year-old has his very own toy line. Bonkers Toys partnered with kids media brand pocket.watch to produce Ryan's World. Toys include giant mystery eggs, squishy toys, slime, stuffed animals, and apparel. Of course, everything is designed to look like Ryan or it has Ryan's face on it.
The toys are sold at major retailers like Target, Kohl's, and Walmart, and they'll be sold at even more retailers starting in October—just in time for the holidays. You better believe these toys will likely be the hottest holiday items your young kids will request this year.
Basically, Ryan is living every child's dream and making a whole lot of money while doing it. Check out Ryan ToysReview here.