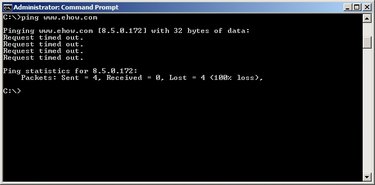 An Internet Protocol, or IP, address is a unique numeric identifier that is assigned to every computer that accesses the Internet. When a domain name is created and assigned to a server, it is given an IP address that corresponds specifically to its URL. If you can find the IP address of a URL, you can access that website by typing the IP address directly into your web browser.
Step 1
Click on the "Start" button. Select "All Programs," then choose "Accessories." Click "Command Prompt" from the Accessories menu.
Step 2
Type the following command into the command prompt and then press "Enter."
Replace URL with the URL of the website for which you want to find the IP address.
Step 3
Examine the information that is returned. It will look something like this:
The number in brackets is the IP address of the URL. You can type that IP address directly into the address bar of your web browser and access the website.