It isn't easy finding safe and comfortable headphones for kids that they don't rip off their heads within three seconds. BuddyPhones Wave could possibly be the magical pair of headphones your kids don't hate.
The adorable headphones are "kid-safe, kid-proof, and kid-friendly." They feature SafeAudio, a sound control circuit that limits the volume at levels recommended by the World Health Organization. Choose from four different modes of listening: toddler mode at 75dB, kids mode at 85dB, travel mode at 94dB, and study mode at 94dB with enhanced vocal clarity.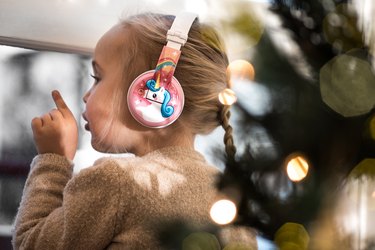 Each pair of headphones comes with a cable that allows up to four friends to listen at the same time. They're waterproof, work within a 30 ft range, offer up to 24 hours of battery life, and they're foldable—making them easy to shove in a backpack. Plus, they can be bent, dropped, and spilled on, and they'll survive. They come in four fun designs: pink unicorn, blue robot, green monkey, and yellow bee.