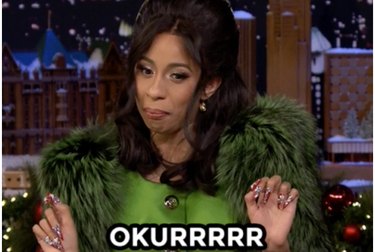 It's hard to imagine life without GIFs. The short video clips add light-hearted fun to text conversations and social media posts, plus they allow you to express your feelings without using words—which, let's be honest, is really the best part of GIFs.
GIPHY is by far the best spot to find any type of GIF you could ever want (and if somehow you can't find what you're looking for, you can create your own). The site put together its top 10 list of the best GIFs of 2018, and some of them might be surprising.
10. DeAndre Hopkins watching the refs review his catch.
9. A happy birthday cupcake.
8. Boss dog, designed in collaboration with GIPHY and Best Friends Animal Society.
7. An adorable heart who is thinking of you.
6. Ringing in the new year with Absolut.
5. Telling someone you love them in the cutest of ways.
4. Hallmark eCard's toast to 2018.
3. A dancing Sherlock Gnome.
2. Colombian pop duo, Alkilados, created the best 2018 FIFA World Cup GIF.
1. Cardi B being Cardi B on The Tonight Show with Jimmy Fallon.