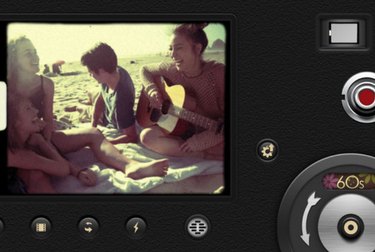 There's an easy way to get your videos to look old-timey without actually shooting on 8mm or Super 8 film. The 8mm Vintage Camera app for iPhone turns any video retro with just a few clicks. So, now you can take yourself back to the decade you were born (if you were born before the '90s, that is).
The app offers dozens of different filters, ranging from the film noir look of the 1940s murder mystery to happier times in the 1980s. Simply choose a lens and any additional effects or border, then tap the red record button when you're ready to film. While you're recording, tap the yellow button if you want to simulate the jitter effect.

8mm Vintage Camera isn't just an app for posting on social media or tricking your friends into thinking you're way older than you are—it can actually be used professionally. The app was used by director Malik Bendjelloul in his Oscar-winning film Searching for Sugar Man.
Download 8mm Vintage Camera here for $2.99.