Your dog is happiest when you're home, but since you have obligations other than just your dog (much to his and your dismay), you can't always be there to play with him.
GOMI is a new smart ball that is currently crowdfunding on Kickstarter to give you the opportunity to play with your dogs or cats from anywhere. The ball offers six interactive and safe ways to play with your pet using the GOMI app.
Preprogrammed activities stimulate your pets' minds and get them moving. GOMI features AutoStart and AutoStop functions, moving the ball in irregular patterns through an evolving algorithm.
The goal is to "keep your pets engaged and their minds stimulated, keeping them physically fit and lessening the possibility of anxiety or depression," according to the Kickstarter.
GOMI is durable enough to withstand bites and rough play, it's waterproof, and it can be charged wirelessly. When your dog or cat bites the ball, it vibrates. When the ball is dropped, it rolls away.
You can use the app to check on how your pet played with the ball while you were away.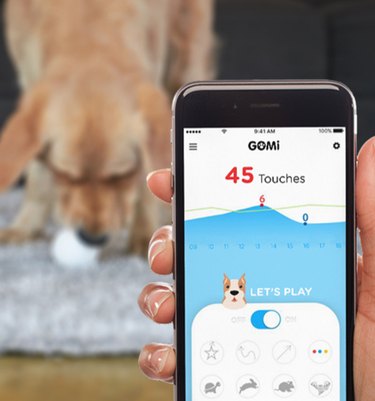 The company has far surpassed its goal, because people clearly love their pets. So, if you'd like a GOMI, click here to back the project.